UPDATES - 03.03.2012
Unfortunately the winner did not contact me within time with the information I require. Therefore a new winner is chosen and she is Kayrinne from Singapore! You will be notified shortly and to reply with required information by 05.03.2012, if not a new winner will be chosen!
UPDATES - 27.02.2012
I apologise for not updating this sooner since I just checked my email!! Congratulations to SooHa Lee from Indonesia for being the 1st all correct entry! You will be contacted shortly! If the winner fails to reply with address by 02.03.2012, I will choose another winner who is the 2nd all correct entry I received!
ORIGINALLY POSTED ON 17.02.2012
I know I haven't been updating frequently for quite some time and so here is another giveaway! This time it is the BROS magazine issue #93 which is the latest as at the date of posting together with the 2012 New Year card sent from BROS to ... all BROS members! Let's talk about the magazine first; rather special this one as it has tons of nice pictures of the Daikanshasai No Single Live 2011 plus a summary of the 2011 We're BROS Tour and some cute stuff. In fact this is concert jam packed issue with loads of commentaries which unfortunately I don't know how to read. Some sample pictures;
Masha looks good in pink!
Then there's the new year card. Every year there's a new year card. Last year's was nice, but this year is even nicer, and rather cute. It is a postcard, with loads of images of Masha holding a message of that 2 words in Kanji (in Chinese it means Big Celebration/Big Good News) which some speculates refers to the name of the pet of
rumoured girlfriend
! I shall say pure coincidence!! Front and back picture. At the back I had to tear off the sticker with my name on it, but it isn't so bad!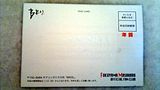 The thing is you can buy these in Yahoo auction but you can never find them at newsstand. And now I am giving away free!!
Simple. Just answer 2 very simple questions, fill in all required fields and the first all correct entry wins! ONE WINNER ONLY. I will then email you for your contact details and then the item will be sent via normal post.
Anyone who is ..
- NOT a member of BROS
- NOT from Japan
- where Pos Malaysia will deliver to. Any destination that can't be delivered, your entry will be disqualified and the next all correct winning entry wins so long as that entry fulfills the 3 conditions set here.
So what are you waiting for? Click Read More link for the form!