UPDATES - 03.09.2011
Winners picked randomly! They're
WU HOI LAM
and
SZE YING!
Congratulations, you will be contacted shortly and you have 7 days from receipt of email to respond, failing which I will pick another winner randomly! Thanks for all your participation!
UPDATES - 1.09.2011
Ok, closed! Winners will be announced shortly and will be emails. Those in the running to win a package each is...
Wu Hoi Lam
Hazel Wong
Anthippi Fiamou
Sze Ying
Choikaddis
Hye-Won Lee
Elizabeth Li
Eva Huang
Mel Manalaysay
Catalina Ramos
Rujita Munankarmi
fuyutsuki
UPDATES - 29.08.2011
31.08.2011 11.59pm Malaysian time is the very last time you can enter this draw. Hurry and quick. All are packed and after 31st I will ask impartial judge (my nephew who doesn't care anything about Masha) to make the draws! Hurry whilst you can still enter! If you can enter through the form, just PM me the answers in Facebook (All Abt Masha) or email me at funnlim(AT)gmail(DOT)com
UPDATES - 11.08.2011
I have updated the giveaway items. Still 2 winners, each winner will get either of the following grouped items:-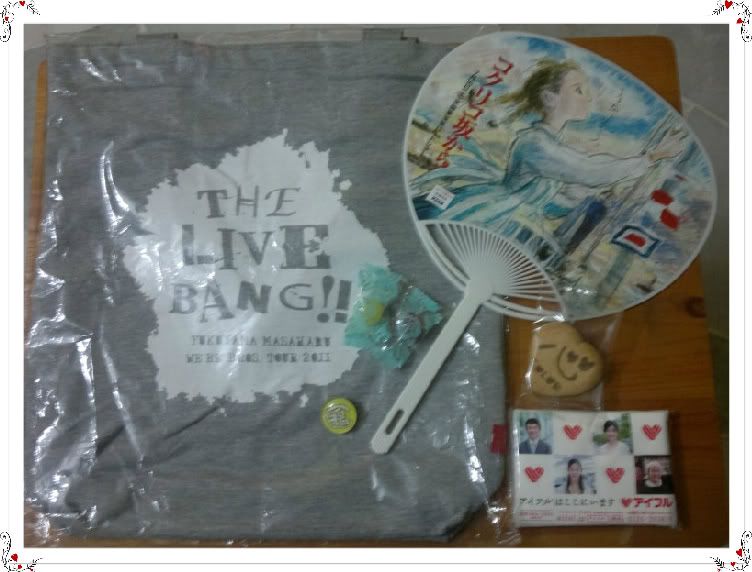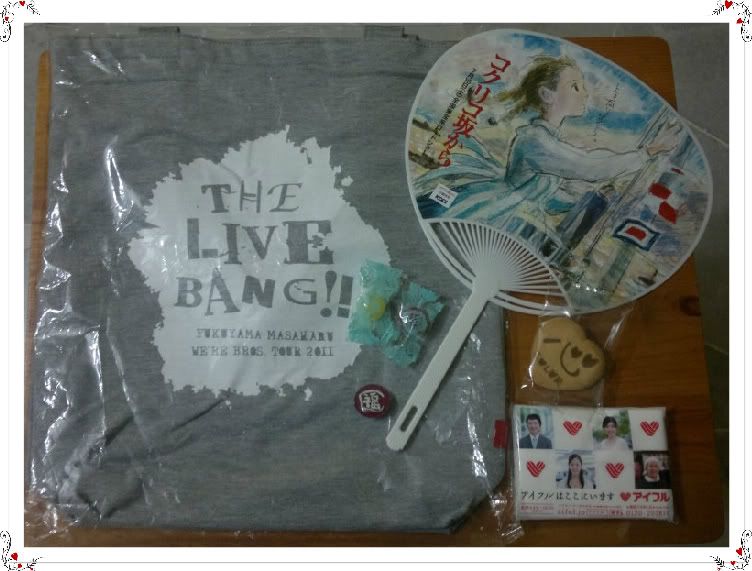 That is, 1 Fuku badge which Fuku-Kat held, 1 Live Bang original tote bag worth 1000 yen, 1 Yokohama-Ghibli Studio uchiwa which you can only get for free at Yokohama, 1 packet of tissue paper distributed at Shinjuku Station, Tokyo (I know it is silly to give away a packet of tissue but again you can't buy that tissue packet anywhere!), 2 Masha sweets AND 1 Kokoro Color cookie (quite delicious). Join the draw if you're from eligible country, last day is 31st August 2011! Click Read More link for the form. If you have trouble with the form, email me or PM me at Facebook.

I've added those who have entered successfully and will be included in the draw when the deadline is over at the bottom before the Read More link. If your name is in it, you're one step closer!
ORIGINALLY POSTED ON 08.08.2011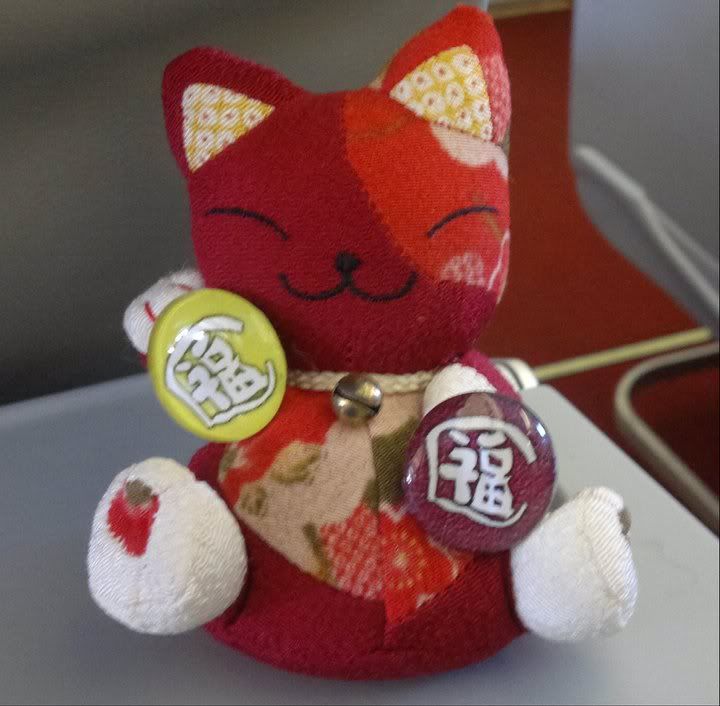 Recently between 02.08.2011 and 09.08.2011, I was in Tokyo, Japan to attend Masha's concert on 03.08.2011 and 07.08.2011. You can read more about my trip and concert overview here (
coming soon
). Before the trip, I made 2 what I call Fuku badges using 1 inch round glass and printed graphics and attached them to my fellow travel companion, Fuku-Kat. Fuku-Kat is a fortune cat but she is also part of the Fuku in Masha's surname, and the Fuku badges held by her, followed me everywhere in my trip, from the concerts to even Yokohama and the famous super clean super high tech Japanese toilets! No worries, nothing "dirty" happened! So you may say the Fuku badges have seen some serious Tokyo, Yokohama and Masha action! They have "breathed" the same air as Masha did and in a way they have been "fuku-fied"! These badges may be nothing expensive, well made or exceptional, but I am sure you will be hard pressed to find them on sale anywhere since I made them myself and I have given a few pendant versions away, each different colour. So you can say these 2 are special, unique and different, like how Masha is. Suggestions were made to me to give them together with Fuku-Kat to Masha, but after some thoughts, I am sure Masha himself has these fortune cats and exceptional badges made by other fans. So I am keeping my faithful companion, Fuku-Kat but I am giving away
1 badge
to each lucky reader of my blog, and since I have 2 badges, that means 2 lucky readers shall receive the great sincere blessings of the Fuku badges. Not just that! These 2 lucky readers will also receive a rather good quality
Live Bang tote bag
worth 1000 yen each which I bought at Yoyogi (where you can attach the Fuku badge on it if you want!),
2 Masha sweets each
(no pictures since I have yet to open the package) and also 1
uchiwa given for free at Yokohama
, bearing the graphics by the great Ghibli Studio, where that in itself makes this uchiwa unique. You sure can't buy them anywhere, you will have to be in Yokohama to get that uchiwa.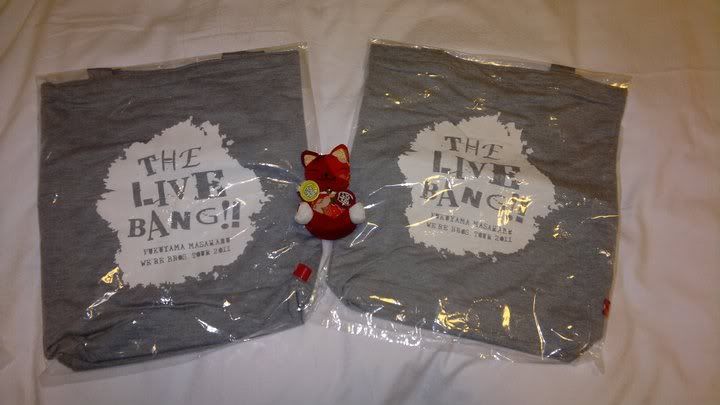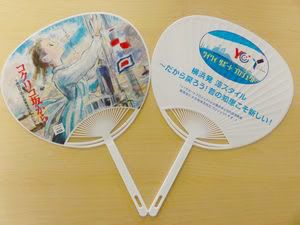 What do you have to do to get these? Simple.
1. This special giveaway is open to all whose country is listed in the form which you will soon fill in and yes, Japan is included;
2. Fill in all required fields correctly and accurately, especially the email part;
3. All correct answers and properly filled form will be separated into a box if there are more than 2 and I will ask someone impartial to pick 2 out and those 2 will be the lucky readers to receive the "fuku" so to speak!
THAT'S IT! I will announce the 2 lucky readers and will email the winners for full postage address. All postage will be borne by me and this will be my gifts to my loyal readers who share a special bond with me; Masha.
Are you interested? If yes, click the link below to begin!
ONE PERSON PER ENTRY
.
Y
ou must answer all questions correctly to be eligible for the draw.
CLOSING DATE
31st AUGUST 2011 (31.08.2011) at 11.59PM Malaysia time
IF NO WINNERS, NO ENTRY, WHAT WILL HAPPEN?
If only 1 entry with all correct answers, then that 1 entry is the winner. If no entry at all, I shall weep and sulk for the entire month.
Click Read More for the ENTRY FORM!!