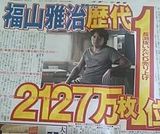 He got 155K! And he was also the has the total highest amount of singles + albums in the chart. At 21.27 million. With his 13th number one, he has surpassed Utada Hikaru as the singer-songwriter with the most number one. He has also surpassed Toshihiko Tahara count at 12, which brings him into the second position as the male solo artists with the most number ones. (He has yet to beat Masahiko Kondo with 16). From the news, it seems he is now officially the best-selling male solo artist, with official volume of 21.271 million, beating Tsuyoshi Nagabuchi with 21.224 million.
1.福山雅治…2127.1万枚(最多売上作品:シングル「桜坂」229.9万枚)
Fukuyama Masaharu... 21.271 million (biggest seller: Single Sakurazaka 2.299 million)
So what the above means is;
1. singer songwriter with the most no. 1 on the charts
2. 2nd in the solo male singer with the most no. 1
3. best selling male solo artiste of all time
CONGRATULATIONS MASHA! I am sure he will have plenty to say in his ANN show this weekend! I am also happy in a very small way I contributed to that number! Interestingly a career spanning 22 years he sold 21.271 million copies (what a number!) but just imagine Alanis Morissette with her debut, Jagged Little Pill if I remember correctly itself sold 20 plus million copies. Staggering number but for Masha, technically that is only in Japan but we all know we foreign fans helped boost the number. I wonder did NHK prime time news plus Okinawa concert and radio interview helped as well?
On September 5th, singer Fukuyama Masaharu (42)'s latest song "Kazoku ni Narou yo/fighting pose" topped the Oricon Weekly Single Rankings for September 12th. As a result, he also became the best-selling male solo artist by selling a total of 21,271,000 copies in total including his singles and albums.
This is the thirteenthtime that Fukuyama has topped the Oricon single charts and as a singer-songwriter, this is the best record yet. Currently, Kondo Masahiko (47) is holding the record as the male solo singer for topping the single chart for sixteen times, and Fukuyama is now second after Kondo.
Congratulations, Fukuyama Masaharu!
More news and statistics from
arama
;
Singer-songwriter/actor, Fukuyama Masaharu's 27th single, "Kazoku ni Narou yo / fighting pose" has topped the singles chart this week, becoming his 13th no.1 single, and his 25th to chart on Oricon since his 4th single, "WOH WOW" (released in October 1991) charted with the highest peak at 89th. His total singles and albums sales now has reached 21.271 million (13.167 million singles and 8.103 million albums), making him (with 22 years of career) the best-selling male artist in Oricon history. Until now, the best-selling male artist has been Nagabuchi Tsuyoshi with 21.224 million singles and albums sold.
As a singer-songwriter, Fukuyama has also surpassed Utada Hikaru who has 12 no.1 singles. As a male solo artist, he has now surpassed Tahara Toshihiko's 12 no.1 singles, jumping to second place overall behind Kondo Masahiko who has 16 no.1 singles. "Kazoku ni Narou yo" is his first wedding song, while "fighting pose" is written to aid the Tohoku Earthquake relief with a portion of the sales donated to relief funds. In addition, a 2-day live on November 12th and 13th will be held in Miyagi to help with the reconstruction of affected areas.
Top 5 ranking of best-selling male artists in Oricon history (total singles and albums sold):
1. Fukuyama Masaharu - 21.271 million (highest-selling single: "Sakurazaka" 2.299 million)
2. Nagabuchi Tsuyoshi - 21.224 million (highest-selling single: "Shabondama" 1.108 million)
3. Makihara Noriyuki - 20.749 million (highest-selling single: "Donna Toki mo." 1.670 million)
4. Itsuki Hiroshi - 19.543 million (highest-selling single: "Omae to Futari" 917k)
5. Himuro Kyosuke - 16.206 million (highest-selling album: "SINGLES" 1.367 million)