I didn't even know! Anyway Masha actually attended an award ceremony today, 02.06.2011! I will let River's translation do the talking;
Fukuyama Masaharu during the Galaxy Award Ceremony: "Music is next."
The Galaxy Award was held on the 2nd June, and Fukuyama Masaharu, the receipient of Special Award for Contribution to Art (Television Category) went to accept it. He said, "The award is given after 20 years of my debut, and it motivates me to work harder in the future." He also joked, "I wish I could follow it with Music award next time."
He was actively involved last year in television, as a lead for a taiga drama Ryomaden and also as a narrator for NHK documentary, Hot Spot, The Last Paradise.
[
Source
]

Thanks to Rinko who said he said (rough translation) "I have never got such a wonderful award so I'm glad to get it. Next I wanna get music award!" but so short? What did he say about Kodama-san I wonder?


Is he gonna announce his marriage next? I am shocked. I mean shorter hair, surprise appearance and of course, notice the super tight pants. And his super serious face. He is also super slim. Everything super. But this is good news. There will be more pictures. And he has got a special recognition for contribution to art as in TV! I would have thought music would be more appropriate but this may encourage him to do more TV roles eh? Ryoma-Den certainly upped his recognition level!
[ADD]
Thanks to Mashamasha for this great snippet! He actually won one for radio (ANN) in 2003!!
Click here
. He didn't accept in person I believe. Wow! So TV and radio. Music next?
[ADD]
Rinko further explained the speech; "
And he said about Kodama San. "When I couldn't dicide which I played a role of Sakamoto Ryoma or not,he said ""An actor who can play Ryoma is you,only you."". So I dicided to play it. I'ld like to tell him that I could get this award.
"
More news, pictures and videos after Read More link.
Anyway some pictures (if there's more, you will find them in Facebook page) whilst we all wait with abated breath for more pictures, more news and dare I say, videos...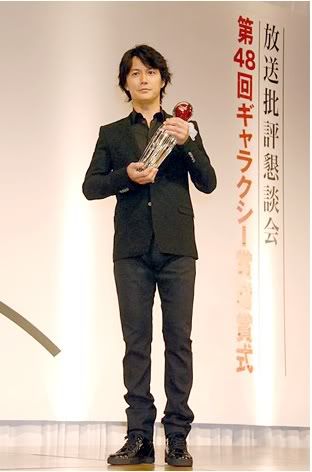 Well, CONGRATULATIONS MASHA!! A special recognition at such a young age!

The video...


News proper thanks to
Tokyohive
;
Fukuyama Masaharu receives award at 48th Annual Galaxy Awards!
Actor Fukuyama Masaharu (42) attended the 48th Annual Galaxy Awards on June 2nd to receive an award!
The Galaxy Awards were created to encourage the continual improvement of the Japanese broadcasting industry, and nominates individuals and shows from four categories (TV, radio, CM, and news) to receive awards each year.
Fukuyama won the individual award in the TV category for his performance in the NHK Taiga drama "Ryomaden", among others. The actor was sitting in the back of the auditorium, and was followed by a spotlight as he made his way to the stage.
"It's been 20 years since I debuted, but I haven't had much luck with awards. It didn't hit me at first [that I had won]", he said honestly. He said he wished he could show his award to actor Kodama Kiyoshi, who played the part of Fukuyama's father in "Ryomaden", and who passed away on May 16th.
He reflected back to the time he got the offer to join the production of "Ryomaden", saying, "I went back and forth trying to decide whether I should say yes or no. The person who finally pushed me to accept the offer, who told me, 'You're the only one who can play this part,' was Kodama."
In addition to Fukuyama's win, the long-running TV show "Aibou", starring Mizutani Yutaka, Terawaki Yasufumi, and Oikawa Mitsuhiro, also won an award in the TV category. The show was chosen for tackling tough issues while also maintaining a playful quality to its stories, as well as for its well-written script.
DOWNLOAD
The award ceremony and press conference, thanks to Anthippi. Quality is ok.
>>
MKV format
>> MP4 format