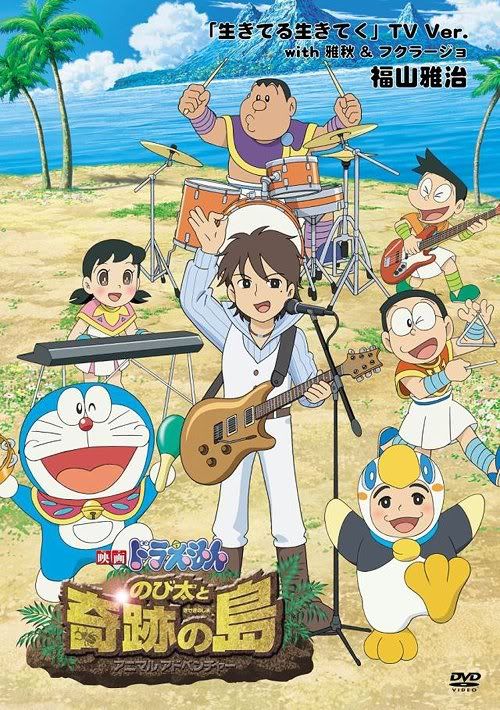 New release from Masha, coming soon! News translated by River of MashaPlus from
Oricon
;
Singer/actor Fukuyama Masaharu will form a tag team with popular child actor Suzuki Fuku to perform the latest Doraemon theme song, which is scheduled to be released on 22nd Feb. Suzuki Fuku will be responsible for the dance, which was choreographed by PERFUME's choreographer MIWAKO, while Fukuyama will make an appearance as Fukuyama Masaaki, which appeared before on the last Doreamon's movie. Fukuyama Masaaki will be responsible for the singing, chorus and the accompanying guitar.
According to Suzuki Fuku, he has been practising the new dance since last year, which prompted a friend to ask him: What is that dance? And Suzuki replied: It's a secret. The song is cool and I enjoy dancing. I want to dance with everyone else. It is remain to be seen if Fukuyama himself can be seen dancing.
Mashamasha says,
news here
said Masha said he won't be dancing. Bummer!
But what is this? Fans says it is a DVD single. CDJapan says;
DVD release from Masaharu Fukuyama commemorating the release of the theatrical anime "Doraemon: Nobita and the Island of Miracles - Animal Adventure -." Fukuyama sings its main theme. DVD contains animation describing the world of the theme "Ikiteru Ikiteku," a TV version of the them sung, a trailer of the anime (subject to change), and a TV spot of the them in which Masaharu Fukuyama appeared (subject to change). *Available only until March 30, 2012 (subject to change). *A part of the profit will be donated to Doraemon Foundation.
Suzuki Fuku to appear in Fukuyama Masaharu's PV for 'Doraemon' OST
Popular child actor Suzuki Fuku (7) will be making a cameo in Fukuyama Masaharu (42)'s music video for "Ikiteru Ikiteku", the theme song for the film, 'Doraemon: Nobita to Kiseki no Shima ~Animal Adventure~'. Suzuki will also be appearing in the movie itself.
The music video begins with an anime segment from the upcoming movie featuring the character "Fukuyama Masaaki" (inspired by Fukuyama himself), and a dodo bird by the name of "Fukuraajo". Suzuki will make his cameo wearing a dodo bird outfit, while exhibiting his dance routine called "Teruteku Dance".
Fukuyama commented, "Please dance to this in a school festival or even at a sports festival."
Suzuki, who made his big break with his "Maru-Mori Dance", revealed, "When I was practicing this dance at school, my friends asked me what kind of dance it was, but I kept it a secret. I would love it if everyone would dance to this."
The movie is scheduled to hit theaters on March 3rd.
Please note it is region 2 DVD.
THE SONG
A sample, plus the dance!
THE DANCE
Learn the dance!! Can you imagine everyone at his concert doing the moves???
THE LYRICS
Partial lyrics thanks to Mashamasha
不思議なものだ
子供の頃は大人に何でなれないのに
大人になればときめくだけで
いつでも子供になれる
大きな夢をひとつ持ってた
恥ずかしいくらいバカげた夢を
そしたら何故か小さな夢が
いつの間にか叶ってた
そうだ 僕は僕だけで出来てるわけじゃない
100年 1000年前の遺伝子に
褒めてもらえるように今を生きてる
今日も生きてく