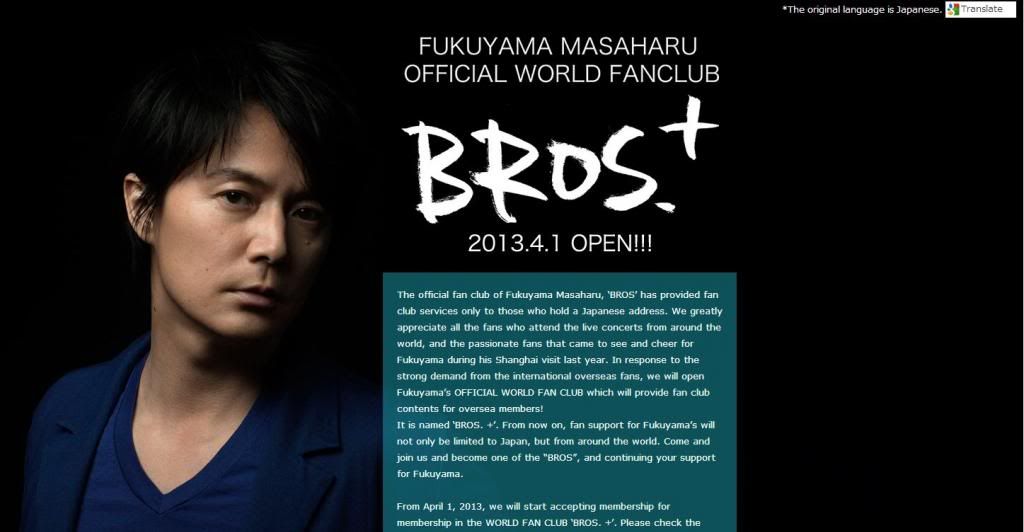 I am reviving this blog with one very important announcement for fans who live outside of Japan and who has had to use agents or beg friends to help with joining the BROS fanclub. Now you don't have to because as at 1st April 2013 (no April Fools joke here!), there is actually a BROS + which is Masha's World Fanclub, What is it about you ask?
you get to join one of the awesomest fanclub in the world for one of the awesomest if not the awesomest one man celebrity/talent/actor/musician/DJ/handsome dude, that is the never aging always awesome Fukuyama Masaharu aka Masha aka soon to me actor's actor if the reports I have read is of any indication. Maybe even in a potentially Best Foreign Picture Oscar nominee or winner.
Do you even need any other reason?
WHO CAN REGISTER
1. If you live out of Japan
2. You must not already be a member of BROS (or at least not let them catch you at it so maybe use your real name this one?)
WHERE TO REGISTER
HOW TO REGISTER
1. click REGISTER at the bottom of the page where you will see a smouldering looking Masha probably thinking "I am a supermodel and I am hot"
2. scroll again to the bottom and again click REGISTER
3. At the bottom fill in your valid and proper email address, like at Gmail, hotmail, etc. This is basically your identity. You can change your email later on when registered but why not just settle for the definite one here for now? Once filled in, click CONFIRM
4. And thereafter an email will be sent to that email. Open your email, there is a link in there. Click it to then fill in your REAL NAME, REAL BIRTH DATE, REAL everything and click submit or whatever the button is.
5. Next is to pay. You can only pay by Credit Card. Here is a bit difficult. I tried using Big Card (Visa Debit Card aka Tune Money card) but got rejected. I use my proper Credit Card that is Mastercard where I will need to confirm the verification number I receive on my handphone, and then and only then I could complete my payment.
Now what if you don't see the verification page and you don't have any and still got rejected?
Just click cancel your application. Don't worry, you can try again the same email again until you actually paid up.
Well, early next morning when bank is open, quickly call your credit card issuing bank and give them your handphone number for verification purposes, wait 24 to 48 hours when confirmed, try registering again.
HOW MUCH IS THE FEE?
4000 yen which is about RM120-00 or less. And that's it.
WHAT DO YOU GET?
Well let's try what you won't get. For one, the physical stuff like member card, members only freee gift, members only special stuff like new year greetings card, those BROS fanclub magazines. Yes I know, bummer. But then the registration never asked for my address at all!
Now what do you get? Full access to BROS + website which is a copy of the BROS website, right down to the Japanese only language. Again what a bummer! Oh come on BROS! Can't you get at least ONE translator to translate the all important messages and entries by Masha? Anyway you will also get digital newsletter and the good news, to participate in some chosen concert ballot and buy some exclusive goodies. You can see the latest members magazine once you log in, just remember to flip the pages using your mouse.
I am afraid BROS + may not be the best fanclub in the world but you know, it took Masha like more than 20 years to reach this bloody stage. This is a good sign. Right now the membership number is still below 400 so it is small but I am sure once it gets to thousands and more, maybe Masha may be persuaded to put more effort in BROS+ like getting a proper translator.
So what are you waiting for? 4000 yen is a lot I know for so little but it is a good start! Join now and let us all BROS+ unite and show those BROS that BROS+ is worth getting some love and attention (like at the least a proper English content stuff). I am very eager to see how those concert tickets ballot work out.
I just don't get the cheek of them to ask us to use Google translator. That is to me the worst aspect of this otherwise wonderful news.
I may even make a badge, like BROS+Msia! Oh yes I will! Stay tuned!

See you when you are a member of the new chic club, BROS+.