Apparently the PV is out and
can be seen here
. But I can't, since region restricted. So.. sigh! Maybe you can!
[ADD]
Thanks to
YOUTUBE
!! Watch fast! No offense but the PV does not go well with the song. What I mean is it is either single daddy/dead mother/mother absent/special bonding between father and son theme but I felt it was rather depressing and frankly Masha and the kid doesn't come across as father and son; more like uncle and son. It would have been much cheerier to have a mother in it, a family unit you know? But any number of family members is still kazoku so... well where is Fighting Pose PV?! Anyway added screencaps after Read More link.
UPDATES - 30.07.2011
So many cross posts! This song will be released as a single on 31.08.2011! For more info click here!
UPDATES - 28.05.2011
Just in as mentioned by Masha himself on ANN today. He said this song may be released as a single in the summer!!
UPDATES - 27.04.2011
Added the official Kanji lyrics taken from official site. Not sure if the one previously posted is the same, if not it would mean the English translation and Romaji versions are not accurate.
PREVIOUSLY POSTED ON 21.04.2011
Reposted from
this post
(see 17.04.2011);
Not much change (for We're BROS Tour The Live Bang 2011 on 16.04.2011 Mie concert)except there's a NEW SONG, supposedly tied in to a CM for this kekkon website "
ZEXY
" (wedding related website). The song's name is 家族になろうよ aka Kazoku ni Narou yo, which means "let's make a family" i.e. let's get married. Fans said it's another song from a woman's perspective, apparently he was thinking of the letter written by a bride to her parents on her wedding day?
See the CMs
here
.
I have no comment until I hear the full song and hopefully read
the lyrics which is usually one of Masha's strongest point other than the melody. Bookmark this post.
As of now, no official release date yet but
lucky fans can hear this in the
We're BROS tour 2010
.
Some very interesting snippet by Mashamasha;
he said he finished writing the melody at very early stage (he received the cm song offer at the beginning of this year), but had difficulty writing the lyrics because he doesn't have that experience. He did think it may be ridiculous for a unmarried man to write a marriage song. He stayed at his secret base to write the song. After 311 (Japan earthquake and tsunami), he once again realised the strength of family bonding because many people answered "Family" when they were asked what support them in this difficult situation. So he decided that the lyrics focuses on family, rather than purely on marriage
Collection of news, notes, lyrics all after Read More link.
NEWS
Thanks to
Tokyohive
Fukuyama Masaharu creates his first wedding song
Singer/actor Fukuyama Masaharu created a new song called "Kazoku ni Narou yo" (or "Let's become a Family"), which has been picked up by 'Zexy' as its new CM song. 'Zexy' is a Japanese wedding magazine, so it seems to be a perfect choice.
This will be his very first wedding song, and Fukuyama wrote this song with the theme of family in mind. The star was forced to stop his nationwide tour for a month after the March 11th earthquake, and so when he resumed the tour on April 16th in Mie prefecture, he performed "Kazoku ni Naoru yo" for the first time. It's said that it caused a lot of his female fans to tear up.
Fukuyama commented, "I believe many people started reconsidering about family bonds with this situation, and I wrote about family as its theme. I hope you listen to this song while you think about your loved ones."
The new CMs for 'Zexy' will start airing on the 22nd, and features married couples Uchida Yuya & Kiki Kirin and Hayashiya Pei & Pa-ko. This CM will be the first time for Uchida&Kiki to co-star alongside with each other.
NOTES
By Izumisano
the cool old couple at the end are real-life couple Uchida Yūya (pivotal rock and roll figure in Japan, friend of John Lennon) and Kiki Kirin (no need to introduce as she's the mother in Tokyo Tower) Her young self in the movie was played by her real-life daughter who is also the wife of Motoki Masahiro. If I remember correctly, they met when he was 26 and she 16, he proposed when she was 17 and they got married 2 years later.
according to mashamasha this was the new song he wrote when he was in the 'secret base' he mentioned in ANN the week after the earthquake.
DOWNLOAD
Radio version here at
Post #1585 Page 106
PV
Screencaps taken from HKFC, the theme is father & son, but to me rather depressing with the obvious absence of a mother because it just seems like a reflective moment rather than a celebratory one. And I don't like the lack of intimacy between father and son, meaning cutting of hair, holding hands, etc in this PV seems to suggest they have lost someone and is at the fields reflecting, the single father struggling to raise his son. If there had been a hug, or rather roll on the grassy floor, it would have been a more positive one. For a wedding song, the PV is so unwedding feel. Wouldn't it be great if yes, father and son theme, BUT father getting married with son as the ring bearer thus creating a new family or son getting married, father as a proud guest?
LYRICS
CHINESE
Here at
Lovemasha
and
Sunnydolphin
.
ENGLISH
By Halad and Rapere, both of MashaPlus. This is a draft version, based on Chinese translation and checked again Japanese version but still draft.
"Even after a hundred years have passed, please continue to like me"
In front of everyone, making it difficult for you
Even so, you smiled for me
Thank you for choosing me
No matter how much we trust each other
There are some things we can't understand
Because that solitude and need for living intimately ('yorisoi' is an adverb to 'ikiru' so I think it should be 'to live intimately')
might be what it is to love... ('aisuru koto kamo shirenaikara')
Someday, with a wide back like a father
Someday, with the quiet kindess of a mother
let's become a family
that will get by whatever happens
When I was young, my body was weak and easily I would cry
All along I only know how to strive for my own self
[And I didn't know how to be filial]
Tomorrow's "me", even if there is not much difference
I hope to step by step from being someone who is always "given"
slowly become someone who is the "giver"
Someday, with a quiet strength like Grandfather
Someday, with an adorable smile like Grandmother
If it's with you, I can live on
Let's become a pair like that
Someday, with a boy who has your smiling face
Someday, with a girl who is a crybaby like me
let's become a family
that will get by whatever happens
KANJI
The following is from official website, so it means it is official lyrics. Not sure if it differs from the HKFC one.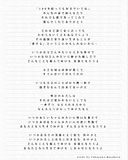 The Kanji lyrics taken from HKFC.
100年たっても好きでいてね
みんなの前で困らせたり
それでも隣で笑ってくれて
選んでくれてありがとう
どれほど深く信じあっても
わからない事もあるでしょう
その孤独と寄り添い生きる事が
愛するという事かもしれないから・・・
いつかお父さん.みたいな大きな背中で
いつかお母さんみたいな静かな優しさで
どんな事も越えてゆける
家族になろうよ

小さな頃は体が弱くて
すぐに泣いて甘えてたの
いつも自分のことばかり精一杯で
親孝行なんてできてないけど
明日の私はそれほど変わらないとしても
一歩づつ与えられる人から
与える人へ変わってゆけたなら・・・
いつかお爺ちゃんみたいに無口な強さで
いつかお婆ちゃんみたいに可愛い笑顔で
あなたとなら生きてゆける
そんな二人になろうよ

いつかあなたの笑顔によく似た男の子と
いつか私と同じ泣き虫な女の子と
どんな事も超えてゆける家族になろうよ

あなたとなら生きてゆける
幸せになろうよ

ROMAJI
100年たっても好きでいてね
hyakunen tattemo suki deitene
みんなの前で困らせたり
minnano mae de komara setari
それでも隣で笑ってくれて
soredemo tonari de waratte kurete
選んでくれてありがとう
eran dekuretearigatou
どれほど深く信じあっても
dorehodo fukaku shinji attemo
わからない事もあるでしょう
wakaranai koto moarudeshou
その孤独と寄り添い生きる事が
sono kodoku to yori soi iki ru koto ga
愛するという事かもしれないから・・・
aisu rutoiu koto kamoshirenaikara ...
いつかお父さん.みたいな大きな背中で
itsukao tousan . mitaina ooki na senaka de
いつかお母さんみたいな静かな優しさで
itsukao kaasan mitaina shizuka na yasashi sade
どんな事も越えてゆける
donna koto mo koe teyukeru
家族になろうよ
kazoku ninarouyo


小さな頃は体が弱くて
chiisa na goro ha karada ga yowaku te
すぐに泣いて甘えてたの
suguni nai te amae tetano
いつも自分のことばかり精一杯で
itsumo jibun nokotobakari seiippai de
親孝行なんてできてないけど
oyakoukou nantedekitenaikedo
明日の私はそれほど変わらないとしても
ashita no watashi hasorehodo kawa ranaitoshitemo
一歩づつ与えられる人から
ippo dutsu atae rareru nin kara
与える人へ変わってゆけたなら・・・
atae ru nin he kawa tteyuketanara ...
いつかお爺ちゃんみたいに無口な強さで
itsukao jii chanmitaini mukuchi na tsuyosa de
いつかお婆ちゃんみたいに可愛い笑顔で
itsukao baa chanmitaini kawaii egao de
あなたとなら生きてゆける
anatatonara iki teyukeru
そんな二人になろうよ
sonna futari ninarouyo


いつかあなたの笑顔によく似た男の子と
itsukaanatano egao niyoku nita otokonoko to
いつか私と同じ泣き虫な女の子と
itsuka watashi to onaji naki mushi na onnanoko to
どんな事も超えてゆける家族になろうよ
donna koto mo koe teyukeru kazoku ninarouyo


あなたとなら生きてゆける
anatatonara iki teyukeru
幸せになろうよ
shiawase ninarouyo