I have no idea what this CM is about but do have a look. Will post more later.
This is an online game and Masha is the ambassador for this game, apparently about pirates. I do think one of the characters may be based on him. Not sure if it comes with a new song though. The video about is 6 CMs combined, total CMs will be 7. Some of it includes some Making Of features with Masha and apparently Regza phone and Toshiba laptop made an appearance. I would think the fruit gadgets may make an appearance since he uses the fruit gadgets you know?
More stuff after Read More link
Thanks to Mashamasha for some snippets she translated from ANN show on 12.11.2011 where Masha discusses on the GREE characters;
it seems the "characters" are designed by masha (at first i thought he followed the cards to draw), and then GREE uses his design and created the "improved" versions
that's what he said in ann last week
F: Totally I have drawn about 5 pictures, with a wide variety. I drew some strong characters and also some weak characters. For the strong ones, I used some strong marine creatures in my mind as motif. Just like 幪面超人used grasshopper as motif (how dare he compare his drawing with 幪面超人?!). I combined human being with those strong marine creatures.
S: Did they carry weapons?
F: About the weapon, I leave it to the professionals to design, because i don't have the knowledge
Wow! He has a lot of feedback on the look of the characters then. But I can't help but applaud the imagination of the people who actually turned Masha's "skeletal" concept into full fleshed looking characters. Amazing! Anyway the following thanks to Angelreii of MashaPlus.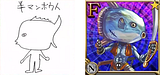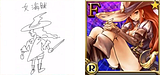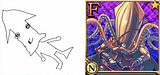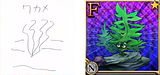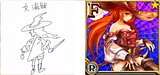 The ad in newspaper, taken from HKFC;