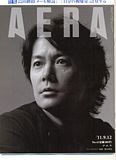 This is AERA issue 12.09.2011. Reposting with permission and text translated by Izumisano of MashaPlus referencing original Japanese text (as above and below) and specifically Chinese text

. The scans by Angelreii of MashaPlus.
THE REST OF THE SCANS
The article in English after Read More link.
Let's Deliver our Message Clearly* - An interview with Fukuyama Masaharu, writer/composer "Let's Become a Family"
At 42 years old and single, Fukuyama Masaharu wrote a song after the East Japan Earthquake, called "Let's Become (Make) a Family." So at this point in time now, what is he really looking at? What is he thinking about?
Racking his Brains on the Lyrics
On 2011.03.11, Fukuyama Masaharu was in Hiroshima.
Just in February, his national concert tour "WE'RE BROS. TOUR 2011 THE LIVE BANG!!" took off in Osaka. This Tour was scheduled to take place over 6 months until end of August, covering 56 shows in 19 cities across Japan, and had been called "Fukuyama Masaharu's largest concert tour in history".
Hiroshima was the third stop, its first show opened on March 10. And just when Fukuyama Masaharu had settled down to prepare for the show on the following day, the Earthquake hit Japan.
Watching the news on the tsunami, he was unable to imagine what would become of Japan going forward. That day, Fukuyama decided immediately to stop all shows in March, and to extend his Tour. And in that unplanned week of rest, he wrote out the lyrics for "Let's Become a Family". This became the theme song for wedding magazine Zexy's TV CM, which subsequently aired in April.
"I should have finished it much earlier, but I racked my brains and still couldn't think of what to write" said Fukuyama.
For Zexy to commission Fukuyuma, the song would of course have to be a wedding song. But as Fukuyama said, "I couldn't do it, I've never been married after all." He said he could always refer to his few experiences in love for love song lyrics, but wedding songs are another matter. Fukuyama tried to put himself in the place of the groom but he could not, for the life of him, think of what he would be saying to his bride on that day.
The Ideal Wife for Him
When it comes to wedding songs from the male perspective, Fukuyama immediately thinks of Sada Masashi's "Kanpaku Sengen", or Miki Dozan's "Lifetime Respect" with its "be with me for the rest of my life~". At first, Fukuyama wanted to write something along the same lines.
But then he thought, since he couldn't start out from personal experience anyway, why not take it from the bride's view - and what Fukuyama Masaharu finally came up with, became his 27th single "Let's Become a Family". The song begins in this way:
"Love me still, even after a hundred years~"
I keep embarrassing you in front of others
Yet still, you stood by me with a smile.
Thank you for choosing me.
And there is this part in the next verse:
However much we may trust one another
I guess there'll be things (about each other) we can never understand
Fukuyama feels it would be quite a blessing to find a wife who shares these same thoughts. He does not believe that complete understanding is what human relationships should achieve. In fact, he'd find it pretty depressing if his girlfriend were to say to him, "I understand every little thing about you. I know you so well."
Fukuyama tries a bit of self-analysis. He thinks it's not necessarily the right thing to disclose all to partners or friends, and that everyone must have some time to themselves. Because putting too much consideration into the things around you will wear you down.
One day, with a strong reliable back like my father
One day, with a loving sweetness like my mother
Let us become a family which can overcome anything.
But even though this is what he sings, in his mind, he cannot simply see "Family" as the ultimate answer to all.
Leaving his hometown for Tokyo at 18, he has been on his own for more than 20 years. Whenever he returns to Nagasaki, he finds it hard to carry on a conversation with his mother and brother. It's because of the differences in their lifestyle and environment. "I find my pace of life very normal, but to them, my schedule is always too tight and they keep asking if I could slow down a bit. I know family is important, and I never intended to be cold to them..."
Finally Noticing the Gap
After the Earthquake, many people started to see anew the importance of family bonds, and an increasing number of unmarried couples decided to tie the knot. "Could be that people want to clear out the ambiguity in their relationship now after the disaster, couldn't it?" said Fukuyama.
F: "For example, where there are couples who felt they're more or less at that stage, it may have prompted one party to finally speak out and ask "How about we get married?" And not only for marriages, the same holds true for divorce. Rifts in the relationship which were overlooked in the past, and differences in ways of thinking, will come to surface. "Couldn't you just pull the plug out to save more electricity?!" and they suddenly realize "I really can't get on with this person anymore." "
People are focusing on ambiguities that were allowed to exist in the past, and this is not limited to personal relationships.
F: "Towards the Government; towards the News Media, there seems to be a growing public sentiment that "there's nothing we can trust in anymore." But even before this, people didn't really think the Government had been fully open. To some extent, they had known that information given out was more or less filtered."
But when it comes to matters of survival, matters like radiation, it would be a grave concern if no-one was willing to be stand up and be frank about it. If you say it's safe, then show us the evidence. Perhaps the entire society is starting to think in that way.
Born in Nagasaki, Fukuyama had openly disclosed before that he was a second generation atomic bomb victim. Amidst voices commending him on his courage to declare this, the man himself says "I really don't think there's anything much to it."
F: "When you look at people of my generation from Nagasaki, most of them have parents who were involved in the atomic explosion. So there is no discrimination around us. But right after the atomic bombing, there was very little understanding on what was going on, and discrimination did exist as beliefs like "radiation is contagious" went around. Now the same thing is happening, with the uproar in response to students from Fukushima transferring in to other schools. It all comes from a lack of understanding on radiation. That's why I'd want to see news media professionals work on bringing out the right facts to clarify these myths instead."
He was looking straight at me all the time he spoke.
What could he do himself?
He started to realize that he needed to be very clear in what he says too, without ambiguity in his words. And this is how it's become.
F: "In the 1990's, instead of spelling out clearly what I wanted to say, I preferred to use cryptic metaphors in my songs, indirect ways where you had to read between the lines. Lyrics like "chasing after the rainbow" or "to the other side of the sky" sounded like abstract poetry, but now they don't seem right to me. I want the words to be more distinct, to be able to convey the message out clearly. Perhaps this is the Fukuyama Masaharu of 2011 and thereafter."
What could he do himself? (Contd.)
As the Tour resumed in April, Fukuyama Masaharu made changes when he returned to the stage. He took away his entire stage set-up and put in additional audience seating at stage-back.
F: "With this shortage of power going on, what we could do on our part? We could cut our own power consumption by doing away with lavish sets that use up so much electricity. And the trucks needed originally for transport of the set-up equipment, can then be put to use for deliveries to the Tohoku instead."
The seats at stage-back were aptly named "East Japan Support Seats" and it was announced that all proceeds from those sales, as well as a part of proceeds from the rest of the tour would be donated to the disaster zones.
A Ballad at the End
F: "Right after the disaster, the mood for self-restraint* was very strong. At that time, it struck me what a pure minded race the Japanese people really are. The same had happened when Emperor Showa passed away. Japan has a culture of going into mourning. I find it a totally admirable feeling to want to quietly offer prayers for the deceased. However, for the sake of sustainability in the disaster areas, economic activities must not cease in spite of it."
And so, the concerts resumed. Sitting in the audience stands, I was able to watch, not only Fukuyama on-stage, but audience on the opposite stands as well. And somehow, I felt like we were one big family.
F: "As survivors to this ordeal, we need to keep our spirit up and work harder than ever. I hope we can set up a system through entertainment where we can have fun and provide assistance to the disaster zones as well."
On August 6, 13,000 people crowded into the Yoyogi National First Gymnasium in Tokyo. An astounding and exhilarating concert had reached the end, and then came a ballad to round it up. Acoustic guitar in hand, singing his heart out. He didn't want attempts to support the disaster zones to end after a one-off fleeting passion. And for that, his singing seemed to calm us down again from our former frenzy.
The End