Whilst I love him as an actor, of late I realise I love him more when he is holding a guitar, whether in a concert or doing promotions or just a photoshoot. Any guitar, since I am not an expert in guitar but I personally prefer him with an electric guitar. Again, not an expert so any electric guitar will do. I have found the following pictures, both good and bad quality related to this specific topic when I was trawling the internet for pictures. Frankly I can't remember the source links but I do remember they were from Facebook and some blogs. I am still looking to add into this collection of mine, that is of Masha and guitars. I do have some personal collection of scans of him with his guitar during the recent 2009 concerts but I can't reveal those since they were given to me on a personal level, not to be shared around by blog. However those are the very pictures that inspired me in looking for more pictures like that. You can see that pictures I mentioned as my blog's background image. I also wish I can categorise these under specific year but since I am not an expert on all things Masha such as timeline, I'd rather leave it as it is.
Just in case you would like to look for this post or similar posts again, just look for the label "SPECIAL PICTURES" somewhere left or right of this post.
For the pictures of him with other musical instruments,
click here
.
Click Read More link for the pictures.
All are thumbnails. Do click on them for larger sized pictures.
Masha and his guitar collection
Reposting with permission from Izumisano, these are or were his actual guitar collection as found in the book, Fukuyama Masaharu Acoustic (or Electric) Guitar Perfect Collection and Izumisano has listed down the collection as per the picture as well as some further explanation by Mashamasha;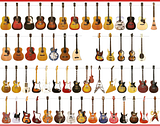 Acoustic Guitars
Gibson J-50 (1959) - most used for recordings, song writing etc., seen in Hatsukoi PV
Gibson J-45 (1947)
Gibson J-45 (1968)
Gibson J-200 (1959) - he bought this on his first trip to the US
Gibson LG-1 (1968)
Gibson B-45-12 (1962)
Gibson Hummingbird (1969) - used for recording, song writing etc.
Martin OOO-28 (1968) - seen in Hotaru PV
Martin D-28 (1979)
Martin D-45 (1979)
Martin Cowboy III (2001)
Martin OO-18DBCY Signature Edition (Yoshikawa Chuei model) (2002)
Martin GPCPA-1
Martin The Backpacker Guitar
Don Musser 1994 - very limited numbers produced
George Lowden Model 038
Gretsch 6022 Rancher (1955) - HELLO PV
Alhambra W-2
LARRY POGREBA Resonator Guitar
Jose Ramirez (model unknown)
K.Yairi 一五一会 (2009.02.06) - (40th) birthday present from BEGIN, with "M.FUKUYAMA" name printed on it
Electric Bass
Fender Jazz Bass (1965)
Sugi Original Custom
Hōfner Vintage63 Violin Bass
Greco VB-90 SB
Music Man Sting Ray-4 BCR/RM (2005)
Electric Guitars
Gibson Les Paul Gold Top (1956)
Gibson Les Paul (1959)
Gibson Les Paul Custom SG (1962) - KOH+ Saiai PV
Fender Stratocaster (1956)
Fender Custom Shop Stratocaster - recording and live performances, very worn out body
Fender Custom Shop The Eric Clapton BLACKIE Stratocaster - recording and live, arm and body showcased earlier on this thread
Fender Custom Shop 58 Stratocaster Closet Classic - (40th) Birthday Present from Kuwata Keisuke
Gibson Les Paul Custom (1970) - Sou ~new love new world~ PV
Gibson Custom Shop Duane Allman Signature Les Paul "Pilot Run" (2004)
Gibson ustom Shop Jimi Hendrix Psychedelic Flying V - Keshin PV
Gibson Custom Shop 50th Anniversary Korina Explorer AGED - REDxBLUE live
Gibson Les Paul Special (1989)
Gibson Les Paul Junior-TV (1960)
Gibson Eric Clapton Crossroad ES-335
Gibson Custom Shop John Lennon Les Paul Junior - ON AND ON live in Michishirube tour
Fender Telecaster Pink Paisley (1968) - inspiration for "phantom" came from this guitar's sound
Fender Telecaster - Revolution//Evolution live
Fender Jazz Master (1962)
Fender Jazz Master (1965) - 99 live
Gretsch 6120 Chet Atkins Hollow Body (1959) - Naitari Shinaide/REDxBLUE CD cover
Gretsch 6122 Chet Atkins Country Gentleman (1966)
Gretsch G6129T-1957 Silver Jet - Asahi Super Dry CM
Gretsch 6186 Clipper (1966)
Paul Reed Smith Modern Eagle (20th Anniversary)
Paul Reed Smith Private Stock #1728 Custom 24
Paul Reed Smith Private Stock #2751 Custom 24
Rickenbacker 350 JG (1989) - Kokoro colour ~a song for a wonderful year~ PV
Aria-Pro II PE-R100 (1981) - his first guitar purchased in high school
James Tyler Studio Elite Chameleon
ESP ANGEL Classic V - the 'wings" that Takamizawa-san (THE ALFEE) gave him after Shin Domoto Kyoudai
"ESP ANGEL Classic V - the 'wings" that Takamizawa-san (THE ALFEE) gave him after Shin Domoto Kyoudai" - woahhh!! He did got the guitar he requested. When will he ever use it to play or is it gonna be in his future Fukuyama Masaharu's Guitar Collection Museum?
By Mashamasha about his first guitar;
That is the first guitar he bought when he was in high school, but not his first guitar. He bought his first guitar in secondary school [Source]. He bought his first guitar at 3,000 yen and used it for a while. He then didn't like its appearance so he took out the pickup part and re-painted it. Unfortunately after this re-make the guitar produced weaker sound so he resold it to his "kouhai" at 30,000 yen. Masha explained the mark up is for his painting work. At highschool, he bought that Aria Pro II at 100,000 yen. He said he did dish-washing part-time job to earn the money. He used it during his whole high school life and then brought it with him when coming to Tokyo. He said he still has this guitar, so it is the one in the book!

And more Masha X Guitars pictures.