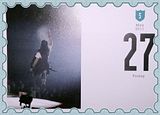 I must confess when I first saw the calendar (you know, himekuri-makuri 2011), I immediately flipped to May 27th because that's my birthday and I was rather pleased to see somehow there's a connection or some small blessing because on that day, a jumping picture which is my absolute favourite pose of Masha. I felt rather special even if it is just a pure coincidence.
Remember my one Masha related ambition that is to buy his concert pamphlet at his concert hall? Well, I kinda bought it already, so I suppose maybe I will aim for the Tsuioku no Ame no Naka sweets. Well, you all know I will be going for his concert on 3rd August at Tokyo Yoyogi Stadium and I have many plans, and my wish is that all my plans stay on track, on course and is fulfilled. First is of course the little thing called visa. Then there's that other little thing called enough savings. I hope it is enough. There is of course I hope for a possibility of a 2nd concert, or even a 3rd since this trip is to go to Masha's concert and I don't expect to return to Japan anytime soon for his concert.
So now , a big part of my wish of wishes, I hope to hear some songs during that particular concert I am attending. I hope to hear some old favourites that are sorta missing or may be missing from this tour, amongst the new ones like Shounen, etc, like Sakurazaka which is ever present, then there's Naitari Shinaide, Sore ga Subete sa, Muteki no Kimi, Moon, especially Milk Tea, definitely Beautiful Day and most of all, even if he does not sing any of those, I really hope to hear my all time favourite of his, Watashi wa kaze ni naru. If he does, believe me, I will feel truly blessed. But from the lists I see, I think if he does sing this song, as in Watashi wa kaze ni naru, I think I better buy lottery ticket once I am back to Malaysia.
Anyway, to those who shares this special day with me, a very Happy Birthday to you too!