Sponsorship, which I am sure is the case with most actors acting in a movie or series and the things they wear although some do use their own stuff. But I am assuming sponsorship in the case of Yukawa sensei's entire attire and more. Recently I expressed
my shock about the shoes Masha owns
, but right now I am just shocked over the price of branded goods. Some I feel worth it all, some maybe not. I took the following from the MashaPlus Info Forums and you might wonder just how much Yukawa sensei is earning to wear all these?! Thanks to River, Mashamasha, Izumisano, On10 and Mel22 for the enlightening information. By the way I feel the glasses and suit will worth the price tag. Yukawa sensei does look exceedingly kakoii!!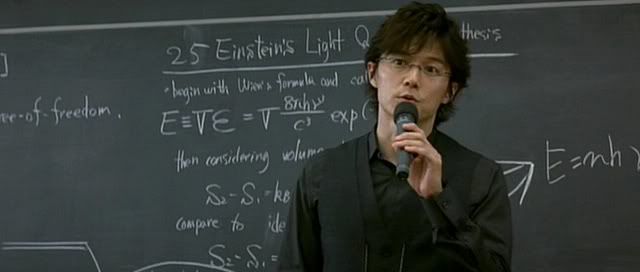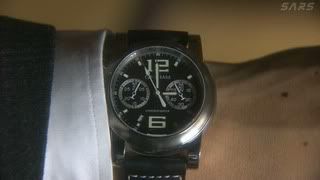 He's wearing a 「クロニック(CHRONIC)」CH-046 model (I think CH-046 Col1, not too sure), in which, rakuten priced it at 29,000 yen (RM995) (the glasses). Normal market price is around 30,450 yen (RM1044) . As for his watch, I am unable to find the exact model. But this one looks the most similar to the one he's wearing (except the strap is different). It's Graham Chronofighter. Model: unknown. Price in yen: One million (RM34000). According to the tv magazine, the ball pen yukawa sensei uses is Dupont's Medici, worths 150,000 yen (RM5143)!!!! (the same ball point pen he used to dismantle bomb and saved Tokyo and Utsumi and himself) and the suit he often wears is

Giuliano Fujiwara

, price unknown.
Conclusion?
....that means he is really well-paid.
My conclusion?
Someone as pretty as Yukawa must have a benefactor somewhere, if not where he got the cash for research?! He did say you can't be a scientist for the money so he can't be paid that well. Someone must have given him some donation in return for some special privileges. After all we have never seen where he sleeps!
Anyway Yukawa sensei, you're too expensive for me!!
By the way click Read More link for a very interesting fact in one of the picture above! Die hard fans will know, I didn't.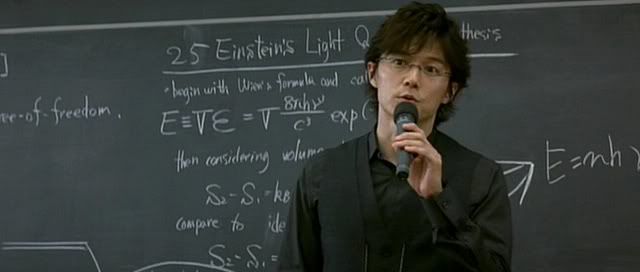 I wondered whose handwriting is it on the board which I feel is too neat for a scientist. River has the answer...
Of course it belongs to Masha.
So now we know! That F is very distinctive, like the one he likes to associate with, the distinctive F. Let me find that Fukuyama F alphabet to post here.
---