All information added such as ratings, reviews, plot summary, episode summary, torrent and download links, English softsub/fansub, dialogue translation, official hardsub, links to online viewing. Post reverted back to original airdate. However this post may still be updated if there is any new sources to add.
OFFICIAL SUMMARY
Episode 3 : Gitegata no Tabi (偽手形の旅 / Journey of the Forged Permit)

Thanks to AngelReii of MashaPlus Info Forums for the info.
NHK World Premium > Historical Drama "RYOMADEN" Eps. 3

Jan 17 (Sun) 20:00-20:45




Ryoma finally is permitted to go to Edo to refine his sword skills. As he launched on his journey with Mizobuchi, Yataro appears and asks them to take him with them because he did not have enough money for the trip. Takechi, Ryoma's childhood friend, remains in Tosa and practices his sword. Kao, who still had feelings for Ryoma, turns down the proposal. At the last checkpoint in Shikoku, a guard discovers that Yataro's permit was forged.
All after Read More link.
By AngelReii and those in ( ) is by me.
Started off Ryoma at his local dojo with friends. Kao chan praying at the temple for Ryoma trip to Edo.. Ryoma so happen to meet Kao there. Sheesh I thought he said he liked her with that expression & look. Instead he mention kendo? Ryoma was sad that he had to say goodbye to Kao. Father & family giving him instructions. They had to travel up & down hill. They found Yataro following them. Yataro was using a different identity to get through the checkpoint. Ryoma does not agree with the lie. Yataro is so adamant in following Ryoma. Yataro's father was upset looking for Yataro at the dojo & creating a fuss. Ryoma took pity on Yataro who was seating outside the inn. So Ryoma took him in. (Someone recognised Yataro and dragged him out to give him a beating. The usual people bullying him I suppose. Ryoma quickly came to his rescue, one man fighting several and winning stylishly if I may add) Yes to save Yataro again. (They arrived at a checkpoint and Yataro's identity was being suspected when Ryoma tried to cover for Yataro, but Yataro suddenly bursts out) Yataro did not want Ryoma to cover for him. (Yataro got dragged away and Ryoma's friend stopped Ryoma from helping Yataro since what could he have done? He needs to get to Edo. On the ship Ryoma was very sad as to Yataro's predicament when suddenly Yataro appeared by the shore and both men bade an emotional farewell to each other).
Next week..... shirtless Ryoma!!! Ryoma arrives Edo, got whacked at the dojo by a girl.
(Yes DO NOT MISS EPISODE 4! PREVIEW SHOWS SHIRTLESS RYOMA and this ain't the old Masha you see, this is a buffed up Masha! Yeah! Ratings will be sky high! If you're fangirl sort of fan that is ...)
MY REVIEW
Love this episode! Got action, got suspense, got comedy, got intrigue, got the greatest love story ever told that is between Yataro and Ryoma... ahhh great episode. I like Yataro, and like him even more when he did not let Ryoma take the blame, for whatever reason and Ryoma could go to Edo. And Ryoma was very gallant in trying to explain for Yataro. These 2 have such great chemistry together and great dynamics. Poor Yataro, I hope he gets his break soon. He can't be forever down and out, we of course knows later he will be rich and forms Mitsubishi but now I really pity him! As for Kao, I suppose her love for Ryoma is deeper than Ryoma's love for her. Poor girl.
Now got 4 major questions, hopefully could find the answers...
Thanks to Mashamasha for the explanation as below:-
1. What was the conversation about in the room between Ryoma and his real love Yataro?
Ryoma said he does not know what is going to happen, same with yataro. His talk made yataro angry because yataro did not agree ryoma is the same as him, at least ryoma has rich family and does not suffer from hunger. For yataro himself, he has poor life and needs to work very hard everyday . When he needs help, no one give him help. [why was Yataro so persistent to follow Ryoma to Edo? - AngelReii]the reason per himself: he has no money, so he needs to be with ryoma to share his accommodation etc. [I was suppose to ask why was Yataro so keen on going to Edo too. I know why Ryoma wanted to go but what was Yataro reason. - AngelReii] Going to Edo is like going to overseas to study, as yataro always thinks he has the brightest mind in tosa and he wants to have success, he believes going to Edo to learn and develop will help him achieving his dreams. I think knowing ryoma's plan to go to Edo is also the reason why yataro wants to go to Edo, as you said, he always compares himself with ryoma and does not want to lose to him
Death of his teacher is also one of the reasons, because originally his teacher agrees to let yataro succeed to his school as he does not have son. As he suddenly dies, the upper class samurai takes the ownership of the school which shatters yataro's hope. As a result, yataro does not have hope or future even if he stays in tosa.
2. What happened to Kao? She said yes?
Thanks to AngelReii, the answer is she said no.
3. What did Yataro said in his good bye to his love Ryoma?
Thanks to Mashamasha for the translation. So Yataro was actually cursing Ryoma who thought he was saying good bye?!
this is the conversation between yataro and ryoma in last part of ep 3 (when ryoma is on the ferry and yataro is on the hill), it is one of the most funniest parts last night
Yataro
弥太郎 「おんしだけ江戸にいきよって畜生!どっかで野垂れて死にやがれー!」
(it should be me who goes to Edo! 畜生! (畜生=animal=equiv of "You cow!!" - Izumisano of MashaPlus Info Forums) you go to die somewhere on the road)
Ryoma
龍馬 「わかった。わかったちや。おまんの志も、わしが、わしが背負うて江戸までいっちゃる。いっちゃるきー!」
(I know! I know! I will carry your dream on my back and go to Edo)
ryoma totally can't hear what yataro said to him
Yataro
弥太郎 「どあほー!あほーがー!おんしは大っ嫌いじゃー!」
(Idiot! Idiot! I hate you very much)
Ryoma
龍馬 「元気でな、弥太郎!元気でなー!」
(Take care yataro! Take care)
4. What happened to Ryoma's other best friend? He seems strickened by something!!
[Pending]
AND the reason not to miss Episode 4 ..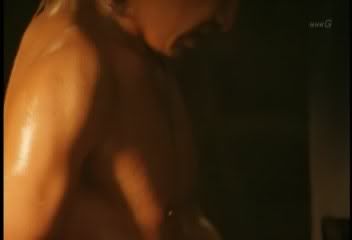 Thanks to Mashamasha from the HK Discussion Forums for this amazing clear screencapture.
Further I had some questions about the sword and the hairstyle and thanks to River of MashaPlus Info Forums for answering them!
Can someone explain a bit about the hair in Ryoma Den? I am very confused why Ryoma's hair is like that whilst everybody else, brother, father, friends have hair that are shaved in the middle? Wouldn't it be an offence not to shave? And the swords they hold, is it a status/rank symbol?
As for the hair, the topknot was the status rank of a samurai. Just like swords, only samurai has the right to wear it. We met Ryoma when he was young. So he doesn't have the hairstyle. However, along the way, he probably decided he won't bother. I remember in JIN when the mother asked the doctor whether he wanted the hairstyle, since letting his hair out symbolised a low-rank man. In the end Jin-sensei decided to tie his hair, just like Ryoma did. At least it symbolised a respectable-class man.
All torrents are still RAW version without subbing in English hardcoded into it. Soft subs are available. Just scroll down, the links are somewhere in this post..
Source 1
720X480 Resolution
Click
here
to thank the uploader,
here
to download the torrent file and
here
which is the direct link to the torrent file (right click and choose save target as or save as). The uploader has combined episodes 1 to 3 together so when downloading, just tick off episode 1 and 2 and just download episode 3. File size is 440MB so expect the quality to be somewhat lesser than the HD equivalent.
Soft Subs :
Specifically for this version in .ass format, click
here
(right click & choose save as or save target as).
Source 2
1280X720 Resolution
Better quality than Source 1 and double the file size at more than 1 GB. Click
here
to thank the uploader,
here
to download the torrent file and
here
is the direct link to the torrent file (right click and choose save target as or save as).
Source 3
1920X1080 Resolution
Best quality but may not be suitable for all computers with file size of 2.4GB. Click
here
to thank the uploader,
here
to download the torrent file and
here
is direct link to the torrent file (right click and choose save target as or save as).
Source 4
704X396
A new alternative file which can be downloaded from
here
. Find the corresponding episode number. It is however at Megaupload where those from banned countries can try accessing using
Hotspot Shield
. This is called the Full Screen Version for the purposes of the fansub by Luna14.
ENGLISH TRANSLATION
The entire episode 3 by Izumisano from Chinese subs. The soft subs will be based on the said content. Click
here
to read the very exciting script based dialogue!
Typically divided into widescreen and full screen version. I've tried the full screen version on another version not listed above and the timing was perfect. So if any of the above starts and ends the same place, without any commercials in between, the subs would technically work for any video version. Download both and choose the one that is timed to your copy. It doesn't necessarily mean that resolution or that widescreen/full screen version to that subtitle file.
Format is .ass. Mac users please use VLC to watch.
Ideally for 720X480 video resolution.
Click here
and find the corresponding episode.
You may prefer the official release for the English subs although there is a tendency to simplify the dialogue in official subs. It's your choice eventhough I read the differences between Izumisano's translation and the official release is marginal, and Izumisano tend to adhere more religiously to the Japanese terms when it comes those fighting scenes, etc. Anyway you can download the torrent, which is source 5 as above.
720X480
This is the hardcoded version with official English subs by NHK. You can find the torrent
here
. Once there click on the title next to NAME and in the new page choose any of the 3 torrent files under the column TORRENT. File size is 470MB.
FRENCH SUBS
Download the soft subs here, ideally to be used with the files here. Softsub is to be downloaded from Megaupload. If you can't access, try switching on Hotspot Shield first.
WATCH ONLINE
Source 1
The text over there seems to suggest there might be English subs soon so do bookmark that site. However you have to watch online but good news is excellent resolution. Just wait for it to finish loading and then watch. I am not sure if there is any restriction on how long you can watch as in 20 min or full version so give it a try.
>> Click
here
to watch. Click play buttton TWICE.
Source 2
With Chinese sub! Click
here
to watch.
22.6%, a definite increase from episode 2's rating. Thanks to River for the news.