I was looking through some posts in the HK Discussion Forums (which by the way is on meltdown about his upcoming much anticipated semi nudity, and I found some very interesting screencaptures which I am reposting here for your viewing pleasure.
All after Read More link.
This is really interesting.
Masha in 1990 ...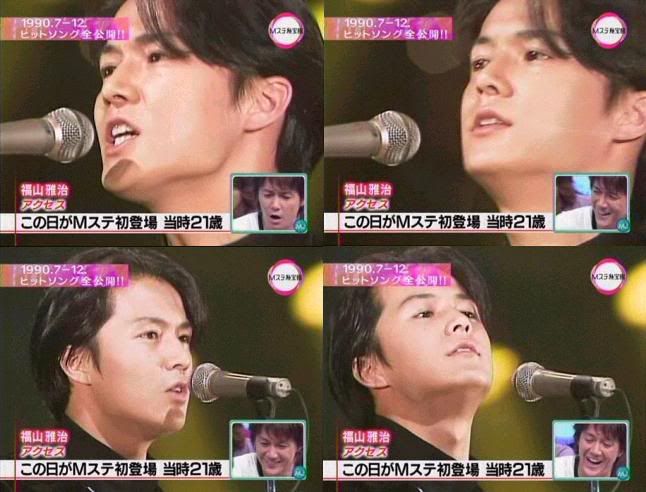 and zoom forward to 2010 which is 20 years later and this is Masha now (technically should be 31.12.2009)...
Time moves rather slow for him doesn't it?
And some more, by Scott88 of the HK Discussion Forum (
Posts 453 & 454
) where you see him in Music Station Super Live ...
in 2009 ...
in 2007 ...
2 years gap, time kinda stood still for him but his 2007 image looks way younger primarily because of his hair. That was during Yukawa Sensei time. I suppose you can say Ryoma time and Yukawa time. And more Yukawa time...
Maybe it's the horrible prep school jacket but he really looks like a very young college student but that was in 2008 I think during Suspect X time from the description posted by Scott88 (
Post 455
) or the pictures may not be the clearest. Seriously, however much he did not change from few years before Chinii Chan time to Yukawa time to Ryoma time, I really miss his Yukawa time hairstyle. Yes, he was painfully slim there, looking tired and stressed but the hair, oh the hair! The only or probably one of the only great moments of his Ryoma time would be that upcoming
Episode 4 30 seconds scene
. But other than that, I wish he would do another Yukawa sensei movie, because I love the character, because I love the show but in some selfish ways, because I love that sort of hair. He is booked for the year but who knows, maybe end of the year? I hope...