THE FOLLOWING WAS FIRST POSTED ON 07.02.2010 UNLESS WHERE INDICATED
UPDATES - 12.02.2010
There is actually a full version of this interesting interview entitled "
THE 41 YEAR OLD Q&A AT MASHA HEART
"
, thanks to Izumisano for her translation. Check it out. A must read for all.
UPDATES - 08.02.2010
Added some clarification on some terms thanks to Izumisano as well as one final question that I did not add.
I found some interesting translation about the questions Masha answered during his ANN show on 06.02.2010, that was on his birthday, considered a birthday special segment. As translated by Mashamasha from the
HK Discussion forum
(post 88 page 6). Those in [ ] in bold is by me. And some comments on his birthday cake(s). All after Read More.
Simple shortened translation of some Q&A from listeners in ann tonight (this is the birthday special of ANN) [by Mashamasha and those in italics thanks to Izumisano for further clarification on the terms in Chinese/Japanese]. FOR THE FULL VERSION WITH SOME VERY INTERESTING REPLY, CHECK OUT THE 41 YEAR OLD Q&A AT MASHA HEART.

What he usually does on off-day >> Go to gym

Who he wants to meet most (those he has not met before) >> 会社創業者 [I used google translator and it says Corporate pioneer/company founder like Iwasaki Yataro]

Which movie he has seen recently >> he has not seen any recently, but wants to see the movie called 愛のむきだし (the movie is very long and he has only finished watching part of it)

[Did some search and found a movie with this title called

Love Exposure aka Ai no mukidashi

. Could this be the one? See the

imdb page

. Apparently the movie is trashy. Well, Masha does have interesting taste in everything.]



What he wants to eat on 地球滅亡日 >> curry, soba [ahh still curry? Masha come to Malaysia! Got good curry here!]

What kinds of onigiri he likes most >> おかか ツナマヨ 明太子 [I have no idea what this is] (i.e. Okaka (bonito flakes with soy sauce) / tuna mayo / mentaiko (spicy pollock roe))

Any thing he can't stop himself doing/being addicted >> whisky, searching 地產 [real estate] info on internet (he said it is 隔代遺伝 [used google and it means a family trait he inherited] (he said it was hereditary / atavism as his grandfather was in the real estate business), his grandfather did 地產

[real estate]

business)[I wonder though, does he google himself? Is he planning on buying more properties? How many he has?]

Which things he has not tried before and he wants to try >> winter sports e.g skiing [Masha, don't! Very dangerous. Stick to something safer, like football or swimming with dolphins!]

The last question was very well answered: What should people live for >> For the people who have given them life
And I found the cake he was presented with at ANN ...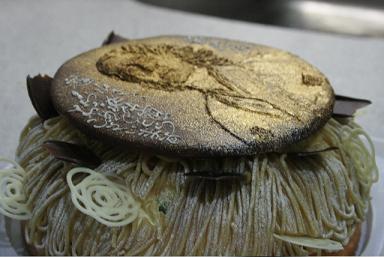 Seriously and in all honest opinion, doesn't look very appetising at all. I thought it was noodle wrapping a piece of meat with a fishcake with Ryoma's face drawn on it on top! Probably chocolate cake.
The following looks better ...
The above 2 pictures taken from the HK Discussion forums. I am not sure if this is really a picture of him with a cake or a fan photoshopping him into the picture with the cake or etc but now that is what I call a cake. That Ann one is...not a cake. Anyway Japanese aren't famous for their desserts so I suppose a birthday cake is still a cake however non appetising it looks.
Anyway how time flies. 41 already! That's the problem with having your birthday early in the year. You just get older way too fast.