Since Ryoma-Den is over, it is a matter of time before he chops off his longer than shoulder length curly hair. One part of me shall miss it, another part welcome it, but mostly sort of dread he may come up with worse hairstyle and colour. I know it is silly but let's have a bit of a fun post. So here this is a Just For Fun post, that is MASHA HAIR WATCH, until he cuts off his hair. So let's see how long he hangs on to his hair. I don't suppose there will be any re-shoots for Ryoma-Den!
12.10.2010
still the Ryoma Hair.
Same hair, except even longer! When is he gonna chop-chop?
Still no chop-chop. Still Ryoma hair. Evidence? Here at
Post #819 Page 55
. Ahh make up free AND that darn hat again. Wonder what was he celebrating? But then the picture could have been before 12.10.2010.
Still no sign of chop-chop. No pictures anyway.
16.10.2010
Still long hair, even longer, even curlier. Mashamasha observes;
some jp fans said they think masha's hair last night looked more curly than in previous appearance, they guess he may have perm again recently, i.e. the gossip in 2ch saying someone met him in hair salon may be true. If he really had perm again, you don't need to expect he is going to cut his hair soon
I understand Masha's attachment to his long hair now. When you have spent so many months letting it grow long, then treatment it and what not, you may think cutting it is such a waste since you may not want to grow so long ever again. So he may be holding on to his hair. But Masha, all good things must pass. Cut it! I do expect he will cut his hair for the countdown concert! We shall see!
Chopped!!!! But may need a bit of adjusting later on! For more on this, and the exciting way it was chopped and by whom,
see this post
!
Sorry, happy too soon. No huge chop yet. Still long, at shoulder length. He is protecting his neck against the cold harsh winter. Masha, scarf. I can knit one for you if you want.
After a rumoured 1 week rest in Nagasaki, fans are saying he has cut his hair, short. No pictures yet. I kinda miss the long hair now.
17.01.2011
Sorry! Fans saw him in Barcelona, Spain on I believe 14.01.2011 and he still has long hair. Maybe trimmed a bit I suppose. So this post shall live on!
Fans outside ANN show on 22.01.2011 said Masha is spotted with shoulder length hair like in Amalfi. Not THAT perm! NO!!!!!!!!!!!!
You know what, Amalfi is BETTER than the following one!
Not that! NOT THAT!
Apparently new hair (or rather the hair we have yet to see) will debut in ANAN issue #1746 to be released on 16.02.2011. I have asked Kinokuniya if I can pre book a copy. So far no news. Anyway we shall see... I just pray it is not that maggie mee hair. Please no!!!
HKFC posted a tiny picture of the upcoming ANAN cover (16.02.2011)...
Same hairstyle! Only shorter! I'd rather it stay long! Now like back to dreaded era!
From a TV appearance on 25.03.2011 but the hair is around this time and the hair.. the hair ... back to square one.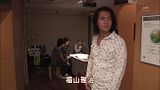 14.02.2011
A better looking picture taken from a source I won't tell but just uploaded today, 14.02.2011 and on Valentine's day! Now this I like.
UPDATE!!
Ahhhhhhhhhhhhhhhhhhhhhhhhhhh.....ahhhhhhhhhhhhhhhhhhhhhhhh....
26.02.2011
And I spoke too soon. From his concert, 25.02.2011. Reminds me of HK's Eason Chan. Why is Masha fighting his hotness? Don't let the guitar be the sexy one Masha!!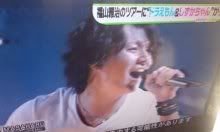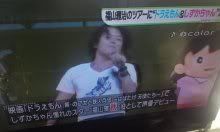 03.03.2011
A better image, from February 2011. This, I sorta like. Interestingly, very rare to see Masha smile like that in a publicity promo picture.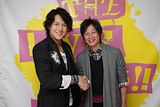 07.03.2011
I read Masha's hair is shorter at every concert venue, a snip here, a snip there. So by the time he reaches Okinawa, maybe his hair transformation will be complete. Hopefully by my time, his hair will resemble something more handsomer you know? Although in retrospect I really love the Daikanshasai 2010 hair. Anyway his hair, work in progress or in internet lingo, WIP.