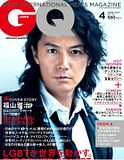 GQ Japan, issue April 2011. This picture quite nearly caused a meltdown amongst fans, more than the ANAN one;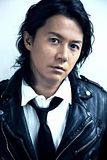 Then came another picture, this time from BROS member site header;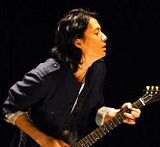 I wondered if it was an outtake from GQ Japan shoot and later when the Magazine was published, I can confirm yet it was, since same jacket!
Fans waited with abated breath for the cover and it didn't disappoint although I didn't think much of the headline for the issue other than Masha, And when it was published on 24.02.2011, fans rushed to pre-order a copy and queued and bought one copy. The rest of the pictures are good as well. In fact as far as fans can remember, and I stand to be corrected. this was Masha's 2nd time on GQ Japan's cover. Frankly, the photoshoot was exceptional and this was billed as Masha post haircut. It was longer than ANAN's and looking at recent concert pictures, this IS the haircut we were waiting for. However strangely the first picture that got fans very excited is not in the final published issue! I speculate it must be a leaked promo pictures, one of those rejected as cover for the magazine.
The article accompanying Masha's article was as Airin of MashaPlus explained "The main feature of that issue is on the financial power/economic impact of the LGBT segment of the population in Japan and elsewhere in the world. It talks about how businesses in Japan have a "business chance" or marketing opportunity to make more money by appealing to the LGBT segment". LGBT means "Lesbians, Gays, Bisexuals and Transgender". Masha's article itself is "Listen to my guitar" and apparently the interviewer followed him for I am not sure how many days to get insights into his professional life. And it seems to be a great read, well we shall have to wait for proper translations.
I have included the reduced sized scans in this post as well as how to find the full sized scans, all after Read More link.
A great big thanks to RAPERE of MashaPlus for scanning and for sharing these in Facebook, MashaPlus and basically to all fans who missed this great one! If you intend to repost, all I ask is you credit Rapere of MashaPlus.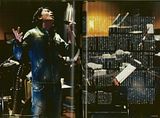 TRANSLATIONS
SNIPPETS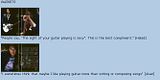 DOWNLOAD
All 4 pages plus 1 cover scanned with high resolution (huge files!) plus the unpublished picture at 23.42MB. UPON REQUEST or find the links in my Facebook page in GQ Japan folder.