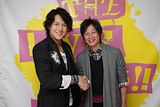 This is a thumbnail. Click on it for full size
I will be honest; I don't know who the heck is this guy but with Masha standing next to him, smiling that megawatt smile and looking sharp and very easy on the eyes, I had to know. Anyway he is DJ and Channel [V]) host Ken Wu and he has his own radio show AND he has
his own facebook page
. I suppose he is from Taiwan. This picture was taken last month which would mean February 2011 (shortly before or during Osaka live) and I think there must have been an interview, with his plans for
Taiwan tour de force
for one day on 24.03.2011, I am not sure whether for TV or radio. Anyway Mr Wu who is now Mr Wu to me for posting such an awesome picture of stylish Masha posted a short message on the interview,
which is in Chinese so I hope there will be some translation soon
now available in English thanks to Rapere of MashaPlus. All after Read More link. As for the Taiwan tour de force thing, click here to read more and if you're not anywhere near Taiwan, like yours truly, let us all vomit blood for this "rejection". Ok, just kidding. Taiwan is a big market and a fan said he has loads of fans in Taiwan who has been releasing his album for years now. Now I know why Taiwan is the favourite girlfriend of Masha, the rest of us ... waiting... waiting ... waiting...
NEWS PROPER
In Chinese
can be read here
. Basically I suppose about the same thing except this DJ got exclusive access to Masha.
By Mr Wu himself from
his own facebook page
, translated by Rapere of Masha Plus. My question now is WHEN IS THE INTERVIEW?? WHERE?
First it asks whether Ken was the one who flew to japan to try kidnap Fukuyama Masaharu to Taiwan. Then it says Ken secretly flew to Osaka last week to observe a handsome guy who has never been interviewed before by the electronic news media ie Fukuyama Masaharu. When he was going to meet him, along the way he saw a lot of large advertising boards of him. Then when Fukuyama first walked in, a lot of people were thinking ~wah.. he's tall! Turns out Fukuyama Masaharu is a lot taller than what Ken had imagined, and his long curly hair made him look very dashing/handsome. (Ken was thinking inside, when he goes back he also wants to tell his stylist to make him look like that)
During the interview, Fukuyama seemed to be a bit worried as to whether he was known in Taiwan, but JKen explained to him, he is Taiwan's most famous Japanese singer, and Fukuyama was very surprised and asked his staff whether it was really true. Furthermore he asked Ken " It is [only] you who says that?" As though JK were tryign to kidnap/trick him by persuading him into going to Taiwan.
While chatting, he told JK that he has been to Taiwan before once, and at the restaurant, actually there was someone who recognised him, he is looking forward to this time that he can go Taiwan, and also hope that everyone is looking forward to his new album!
At the end Ken teasingly asked Fukuyama Masaharu how old did he think he was, and one of the staff at the side said "should be very young I think!" This answer made Ken smile all the way back to Taiwan, and this ended the enjoyable secret interview and trip
就是愛 JK 大好人飛去日本見大帥哥 企圖拐福山雅治回台灣??
大好人上個週末不在台灣,很秘密的坐上飛機,飛往風優美的大阪城,為的就是要一睹這位從未被台灣電子媒體採訪過的大帥哥~~福山雅治。
大好人在出發要去探訪福山雅治的現場,沿路上經過許多由他代言的商品的大型型看板,而當福山雅治一走進來的時候,大好人心裡想~哇!好高哦!原來福山雅治比大好人心中想像的高,而長捲髮帥氣十足(大好人心想,回去我也要叫造型師把我弄出這成樣)!
在訪問的過程當中,福山雅治似乎有點擔心自己在台灣知名度不夠,但大好人向他解釋,他是台灣最有名氣的日本歌手之一,他覺得很驚訝,頻向工作人員詢問這是真的嗎?並且吐糟大好人說:「這都是你在講吧?」就怕這是大好人想要拐自己去台灣的說詞。
在聊天中,他告訴大好人曾經到過台灣一次,並且在飯店中,其實也有人認出他,他很期待這次能夠來到台灣,也希望大家期待他新的音樂作品!
大好人在最後頑皮的問福山雅治認為自己幾歲,工作人員在旁七嘴八舌回說:「應該很少年吧!」這個回答讓大好人一路偷笑回台灣,也結束了這次愉快的秘密探訪之旅!