The following is a message by Masha from BROS Magazine Issue #88 (09.2010) translated from Japanese to Chinese by Midori and from Chinese to English by Rapere of MashaPlus.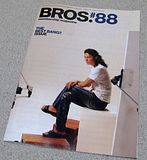 "Domo, Fukuyama desu"




Filming of Taiga Drama Ryomaden has finished!




But Fukuyama's taiga in 2011 will still be as massive!



For the full article, click Read More link.
Hi, how is everyone? This is Fukuyama.




Those who are BROS should already know, but still, let me announce it here again - NHK's Taiga Drama Ryoma-Den has completed filming!




Oo~ There is such enthusiastic applause from the "other side" of the magazine (laugh). Thank you everyone!




Of course Ryoma-Den is still being broadcast, but for me, I have reached a stage where I can rest [from it]. "Ah...", it is over. Although I have shared both here and also on my radio broadcast things about filming process before, this year has felt so long yet came to a close so quickly.....




At that time when I finished filming, various deep emotions swept over me, but unexpectedly, the foremost thought in my mind was... "Ah, finally I don't need to memorise scripts anymore". Not that I mean that I want to take a break (laugh)! Only that to me, Fukuyama Masaharu, Ryoma-Den has become part of my daily life, and it was just like live concerts, the taiga filming process allowed me this opportunity to experience the excitement and challenge of a taiga drama together with the other staff, and I was able to establish a lot of very good relationships. For this I am very grateful.




Also, to everyone who has supported us, I want to say "thank you" again. Thank you very much everyone.




Digressing a little... Why is it I could actually memorise 48 episodes of script, but I can't even remember the lyrics of my own songs!




It is well said "It is impossible to remember things you wrote yourself.". But why is that the case? Comparing with a computer, the lyrics that were not used and deleted but still remain in the cache memory, sometimes they will suddenly reappear again because of a bug. For example when I am writing song lyrics, for some reason there are times where I will mix up the lyrics of the first and second verse! Then suddenly it will occur to me "Eh, which one is it supposed to be?"




That's why I say, only when you listen to the entire completed song, then is it possible to remember it. Last time, when I was on holiday in North Europe, someone said while we were in the buffet car "Sing a song of the north because you are in the north." (How simple minded!). So in that train that was heading to North Europe, like a fool I sang 北海場! (Boast!)




It was because the script for Ryoma-Den was entirely completed that I managed to memorise it. I think if I had to know the changes that were being made while script writer Fukuta-san was writing it, I might not have been able to memorise the script... While in this contemplative mood, now that I can let go of the anxious feelings that arise from worrying about whether I can really memorise the script, I feel happy but also a a little lonely.




Thinking back now, prior to starting filming of Ryoma-Den, I tried to understand about the kind of person Sakamoto Ryoma-san is by looking at it from different angles and how to express it. But once we had started filming, I didn't have time to think whether it should be like this or like that, I was entirely absorbed in it and you can certainly said I tried my utmost. It was through this process I think, that I started to walk as Ryoma-Den's Ryoma-san. Ryoma-san had become a part of my body, I did not need to worry anymore "If it were Ryoma-san, this is how he would probably think isn't it?", but could very instinctively reason out from Ryoma's point of view.




At the end of the day, looking at the results, for me Fukuyama Masaharu, I am very glad that I have been able to experience for myself a lot of new things. Whether it is portraying a character/role, or filming techniques, it is all very new and fresh. Because the location used a panning technique to shoot scenes continuously, the ability to maintain a "high energy" is required. Another way to put it, like batting a thousand baseballs, a competition match against a different style of fighting, a wrestling competition where there is no distinction by grade... After all, I had previously never acted before in a period drama, had to read a script written in the Tosa dialect or filmed a martial arts show. Don't you agree (laugh)?




Oh yes! Halfway through, next year's Tagai drama Gou ~ Hime tachi no Sengoku ~ began in the studio next door. And I realised that over there it is full of ladies while in our studio it is mostly men. Even though we have Maki Yoko -san and some other lady actors, it is still very few. Really, it is a place where we do not get to see many female actors. We suddenly realised for studios to have mostly men present is pretty usual. For example, it is like a small town's factory, there is probably only one lady present who is doing administrative work while the rest are all men. (further more, the hair is in a topknot).




Thinking back, when we were filming Galileo, other than Shibasaki Kou -san, there were very few female actors that I got to meet there. In the first place, Yukawa -sensi was forever only in his research lab (laugh).




Anyway, lets stop talking about that.




What I obtained from this experience, is more than just learning about the background story of the shocking last days of the Tokugawa shoganate and the chance to act as Sakamoto Ryoma. "What I achieved/gained from this taiga serial" has become a very big asset to me.




Personally right now I do not have any free time to rewatch the 48 episodes of Ryoma-Den (laugh), but I hope everyone in Bros will be able to watch it all the way to the end. And if you have enough time, it would be best if you could rewatch the whole thing again. I think everyone would be able to enjoy rediscovering the parts where Fukuyama's Ryoma had to intentionally put in effort to change himself as well as the parts where he naturally developed himself.




Ryoma-Den is a historical event, in order to make it into entertainment for the 21st century, what creative direction does the team have to take? And it has to be for all 48 episodes. This is a drama that is genius/ very good. I think that everyone will enjoy every single part of the entire 48 episodes of this taiga up to the very end.




While doing the Best Album, not only did we make use of the latest technology, I also made a decision to invite the world class sound engineer Tchad Blake to help redo the sound tracks for a few songs. To use one sentence to express it - one by one to make each note even stronger and more powerful. Even by partially replacing the guitar or changing the chorus, it can be improved to a very modern powerful sound. From 2010 to 2011, in this era, even on the radio broadcast, it will still sound good.




Precisely because this is the 20th Anniversary Best Album, the challenge was how to make the music updated/new again, or in other words how to use "the experience from these 20 years of creating music" and compile it together.




Because of this, other than compiling the previous works, "Fukuyama today => new songs" should also be included. That's why this "best album" also includes 3 new songs. I have really worked very hard (self praise!).




First 道標 / Michishirube / Signpost's new version 道標 2010 / Michishirube 2010 / Signpost 2010. Because Nippon TV's "News Zero" program will continue to use this song, I had the chance to perform it during a program with Violinist Emiri Miyamoto -san and collaborate on this new version. For the strings arrangement, we also invited Inoue Akira -san to take charge and make the whole song even more elegant/refined sounding. How does everyone find it?




Next one is 石塊のプライド / Ishikure no Puraido / Pride of a Pebble. "石塊" is read as "i-shi-ku-re". This piece is Dunlop's new advertisement song. When the music for this song was being created, from the start lyrics were intended to be added to it, so this opportunity was taken advantage of to complete the piece.




Since it coincided nicely with the 20th Anniversary Best Album, and for a long time I have not sung a piece where the lyrics are written by someone else, so I wanted to collaborate with someone else on it.




When I approached Sion-san on this, he actually agreed to do it, so together we managed to finish this piece. I hope that everyone can feel some of Fukuyama's past through this song.




Then there is also the new song - 心 color ~ a song for the wonderful year~. This is a lively song, other than being able to hear it in the Toshiba Regza advertisement, there is also another very important meaning to it. Everyone will be able to understand when you hear the lyrics, this song speaks about my feeling of "one year is over, lets turn towards a new year". Everybody listen to it!




Speaking of welcoming a new year, countdown comes to mind; thinking of countdown, you will think of "冬の大感謝祭 / Fuku no Daikanshasai / Winter's thanksgiving"!




Yes. This song is the "Fuku no Daikanshasai" main song, I specially wrote it for that. And this time's "Fuku no Daikanshasai" formal name is " 冬の大感謝祭 其の十 思いっきり感じたかったんだ!後ろから前から、そして心 color / Fuku no Daikanshasia Sono Jyu Omoikiri Kanhitaka(tsu)tanda! Ushiri kara maekara soshite kokoro color / Winter's Thanksgiving No 10 With all my heart's feeling! From behind, from in front and now color of the heart"! [It is] excellent! Even more self-praise! (laugh).




So like this, revised versions of 20 years of songs, adding on 3 new songs, has formed another taiga drama = Best Album. Everyone must go listen [to it]!




Since I have mentioned the "Daikanshasia" which will conclude 2010, in order to let everyone be able to hear these new songs, 2011's Fukuyama Masaharu decided to organise a concert tour of the whole country!




Oooh... there is enthusiastic applause from the "other side" of this magazine again (laugh).




Saying this may make people feel that I am boasting again, the plan for this concert tour is for the scale to be the biggest ever in history. Some of the venues I would not have been to before, and some I have not gone to for a very long time. [It will be the] first time performing at Wakayama, and a long time since Aomori, Mei, Nagano, Kagoshima..... Of course the other places, I am also looking forward to. I am really very happy that I can meet with everyone, and also very glad that I can happily perform.




While planning for the concert tour, Best Album had already been released, and I will sing a lot of the songs from there for everyone to hear. Actually はつ恋 / Hatsukoi and 少年 / Shonen these 2 songs have not been sung live, so other than singing them at this concert tour, I also intend to at this Daikanshashai, perform these new songs that I have never performed before.




Some people may be think "He acted one whole year of Taiga drama, [he] should rest for a while!" But, I do not intend to do so, after all, the purpose of me coming out to Tokyo 20 years ago was because I wanted to do this [concerts]. To me, these concerts are not "work". ha... If you say it is a "hobby" it sounds wrong. Anyway in conclusion, rather than being "job", it is more my "mission in life".




As a reward for myself for having acted a whole year's taiga drama, I have been looking forward to this all the way up to summer, this long music-trip. And also invite everyone to look forward to it. Now my mind if filled with thinking about the various places' Japanese wine and what food to go with the wine (laugh).




Ah! That's right. I have to think about not only the music aspect, but also things like whether or not I should cut off my long hair. Maintain my black hair or dye it blond? Blond should not even be one of the options I think (laugh)!




Ha.. I haven't thought too much about it, let me invite everyone to also look forward to this! Only thing is, if I do cut my hair short, I will definitely feel colder! I am thinking I will need to wear a neck warmer.




Finally, here to everyone who always worry about me I want to announce a piece of good news, I have bought a high-quality down quilt. Let me correct that, I have bought the highest-quality "bed" and highest-quality "quilt"!




That I have bought it back is really excellent! Listen, when asking everyone "Do you like firm beds? Or soft ones?" most of the answers were "firm is better." But... this "high-quality" one that I bought is the soft kind.




If beds are too hard, the parts of the body that stick out will become the points that bear the weight of the whole body, but this type of bed that I bought, it has a complex structure of springs that enable it to envelope my body! And what does that do? This type of bed will really enable people to relax, improve blood circulation and get the best quality of sleep.




Ah.. this bed is really the best. Although saying it could sound too much like a salesperson, but it really is very good! For those people who have lower back pains, this symptom should be alleviated I think! In short, this [bed] is able to exactly support the whole body, a pillow is not even needed anymore.




This bed is really too good to describe, it makes me wonder how I have managed to sleep all this time!




Recapping again, 2010 was the year I finished filming Ryoma-Den, richly experiencing every single day. What I obtained/received from the film set became the ingredients for "Daikanshasai" and "Country-wide concert tours". Everyone will be able to see a Fukuyama Masaharu who has experienced a taiga drama.




The taiga has been completed, the best quality sleep I can now get; concluding 2010, welcoming 2011 in this period, a brand new Fukuyama Masaharu is awakening. Wake up from being in a comfortable slumber, let us meet at the concert!




~ The End ~