News on the coming soon
24 hour radio broadcast
(see 26.03.2011 post) on 9th and 10th April 2011 translated by River of MashaPlus. Original news in Japanese is
here
.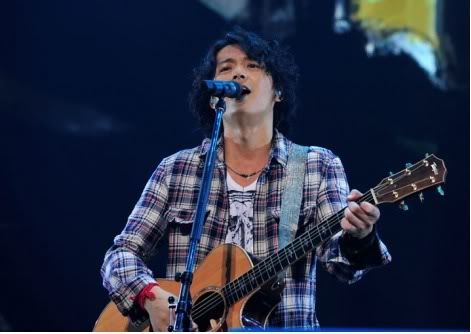 The actor-singer will be holding his first every 24-Hours Live Radio Charity Event on 9th April, from 1300 to 10th April the next day. This will be his first every 24-Hours Live Event in his 12 years experience of hosting All Night Nippon Radio Show. The filming location for last year's taiga drama, Ofunato in Iwate Prefecture is one of the area that was severely damaged by the earthquake.




Since the earthquake occurred on the 11th March, the residents of Fukushima and few other places only received their information through radio. The staffs have been receiving a lot of encouraging messages from those effected, and they wish to do something back in support for each other. The charity event will also includes an appeal for donations from listeners. The chosen dates, 9th and 10th April were also the original dates for Miyagi concerts. Fukuyama declared he will work hard to deliver a show.




He will also re-starts his tour, beginning on 16th April at Mie. Extra seats will also be added, and the sales from these extra seats will be donated. 'There will be some changes to the sets in order for us to save some electricity.' Donation box will also be set at the concert venues.




In addition to that, Fukuyama also played guitar and harmonica with 魂リク.時代,, a group of makeshift musicians from Fukushima founded by Machino Yakai, a Creative Director. The title of the song: 'I Love You & I Need You Fukushima' has a mobile release on 20th March and all proceeds will go to charity.
I Love You & I Need You Fukushima is a great song, with very nice melody. Masha's participation is in the guitar and harmonica.
Anyway do bookmark your calendar;
09.04.2011 at 1pm Japan time to 10.04.2011 1 pm Japan time, all day, 24 hours of Masha.
A better English translated news after Read More link.
From
Tokyograph
Fukuyama Masaharu to host 24-hour radio special for charity




Fukuyama Masaharu (42) will be hosting a special 24-hour live radio program on April 9th-10th for the areas affected by the Tohoku earthquake. He personally announced the project during his radio show on Saturday night.




The "Radio Charity Musicthon SP: I'm with U: Kimi to, 24 Jikan Radio" will start at 1:00pm on April 9th and continue for a full 24 hours. Fukuyama will be singing and delivering live messages, while encouraging donations for the relief efforts. There will also be special celebrity guests participating in the program. However, there will not be any extravagant performances, in consideration of the current energy conservation measures in Japan.




Nippon Broadcasting System has held a 24-hour musicthon around Christmas every year since 1975. This will be its first time doing a special one outside the Christmas season.




Last year, Fukuyama starred in the NHK taiga drama "Ryomaden." Some filming was done on location in the city of Ofunato, Iwate, which was one of the areas heavily affected by the earthquake and tsunami. Fukuyama also happened to be in Kobe ** during the time of the Great Hanshin earthquake back in 1995.




Fukuyama was originally scheduled to perform at the Sekisui Heim Super Arena in Miyagi prefecture on April 9th and 10th, but those concerts were canceled due to the tsunami. He will resume his national tour from April 16th in Mie prefecture.




It was also revealed today that Fukuyama participated in the charity song "I love you & I need you Fukushima" by the band Inawashirokozu, consisting of Matsuda Shinji (THE BACK HORN), Yamaguchi Takashi (Sambomaster), Watanabe Toshimi (TOKYO No.1 SOUL SET), and Yanai Michihiko. He played the electric guitar and harmonica for a special version of the song, while Inoue Akira played the piano. That version is available on the Tokyo FM mobile website.