Added link to French sub soft.
THE FOLLOWING WERE ALL POSTED ON 07 FEBUARY 2010 UNLESS OTHERWISE STATED.
THE EPISODE SUMMARY
Thanks to AngelReii for the following info.
Historical Drama "RYOMADEN" Eps. 6
Where is Shōin?/Shōin hadokoda?
Feb 7 (Sun) 19:00-19:45 (Japan time)
Sana urges Ryoma to apologize to his sword master in order to resume his practice, but he shows no intention to take back his words for he found sword fighting useless. The US fleet led by Commodore Perry arrives in Japan again which hikes tension among antiforeigner supporters. Ryoma sees Yoshida Shoin from Choshu clan, who planned to smuggle onto the fleet with his ambition to see the world with his own eyes. Shoin tells Ryoma to take quick action rather than being caught in worries.
More after Read More.
PLOT SUMMARY
Thanks to River for the following.
"
From those who had watched it via BS-Hi, they think Yasuda Shoin (the guy who tried to board the black ship) is slightly mad. Or madder than usual. Anti-foreigners principal has started to take shape. Especially in Tosa, Takechi Hanpeita is starting to make his moves. While there's no mention what Ryoma is doing
".
REVIEW
MashaPlus Info Forums is down, and potentially in coma for some time so whatever observations here are by me who can't understand Japanese and the rest of the forum-ners at somewhere else. Anyway this episode is more on political intrique, the rising anti-west sentiments and how Ryoma matures. Last episode he left the dojo dejected, thinking what's the use of learning Kendo when against those big black ships, situation is hopeless. Did I mention he became very obsessed with the ship?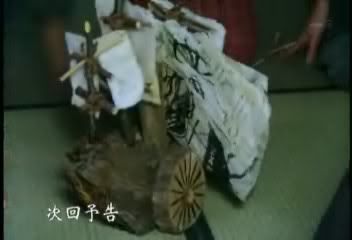 The story continues to this episode, Ryoma spends his days playing with the children, then ran home to his chaperone (Mizobuchi) who didn't know he wasn't at school anymore. But the secret was out when Sana paid a visit and urged Ryoma to return. I suppose he said no and hopeless and etc as he looked at his own painting of the big black ship. Back at Tosa, Takechi is I suppose again urged and encouraged to be more anti-west because he looks positively serious and kinda angry. Anyway Ryoma would meet a man who tries to board the ship to see the world in the dead of the night (he later got caught) that would change his mind, as stated in the episode summary above. Perhaps the man urges him to see things positively and to remain hopeful and see the ships as a sign of the new dawn? I did hear the word "Kokoro" so I suppose he was urged to follow his heart and not dwell in the negatives. Because next thing he returned to the dojo and his master took him back in, which I suspect is because of Sana. But Ryoma wants to go home to Tosa but before he left made a pinky promise to Sana, about something. I was hoping for a kiss, or a hug or a confession but the thing with Ryom is like get the girl interested and then he doesn't seem to show any active interest! Where is the love story?! The actress who plays Sana is very pretty in here. I really like her and was hoping she play's Ryoma's wife because the wife is supposed to be very pretty (in Ryoma's eyes anyway because historical pictures doesn't seem to agree with his eyes) and the actress who will play her isn't quite as pretty as Sana. Anyway Ryoma goes home in the last scene whilst Yataro gets his permit to go to Edo! In case you're curious about the guy who tried to board the ship, his name is
Yoshida Shoin
(thanks AngelReii for the link). Everybody dies young then. The performances were good and I love the last scene of a more mature Ryoma reflected in the style and colour of his fashion, a deeper colour. Even there is less fuss with his hair but still looking awesomely handsome but older. But the performances of the foreigners is just simply horrible. If you ask me of course they portray the arrogance of the westerners quite on point but the fact that the actor as Perry who said "hould you refuse to do so, you will have ... warrrrrrrrrrrrrr" with his eyes bulging is not overacting, just simply bad acting. Are there no professional western actors out there? Maybe hire one from Hollywood? Anyway good point is the dialogue was in English. 6 months passed and as threatened Perry returned and negotiated or rather bullied his way for Japan to open trade and I heard Nagasaki as one of the opened port. But the acting is still horrendous.
My questions, hoping to get an answer but as long as the forum is down, these will probably remain unanswered ...
1. what did Sana said to Ryoma?
2. What happened at the beach and the whole long speeches culminating in a punch? I could guess ...
3. What did Ryoma said to his sifu?
4. What did Sana and Ryoma said that led to pinky promise? Let me guess, no confession of love.
5. What is Yataro doing the whole time? He got his permit to go to Edo?
Next week, "Ryoma returns to Tosa.Reunion. And Ryoma's father collapse. Sparring scene at the dojo.
Lily Franky
guest stars." (River & AngelReii)
PREVIEWS
The pinky promise scene.
The beach-punched-swim towards black ship scene
The Ryoma comes back to Dojo and accepted by his master scene
TORRENTS
Source 1
1920X1080
Click
here
to thank the uploader,
here
to download the torrent file and
here
is the direct link to the torrent file (right click, choose save as or save target as). File size is 2GB.
Source 2
720X480
Click
here
to thank the uploader,
here
to download the torrent file and
here
is the direct link to the torrent file (right click, choose save as or save target as). File size is 438.5MB
Source 3
704X396
A new alternative file which can be downloaded from
here
. Find the corresponding episode number. It is however at Megaupload where those from banned countries can try accessing using
Hotspot Shield
. This is called the Full Screen Version for the purposes of the fansub by Luna14.
WATCH ONLINE
Source 1
Chinese hardcoded
-
View here at natnatvip.org
Source 2
RAW
ENGLISH TRANSLATION
Read it at
Masha Heart
, all thanks to Izumisano who even translated the "Previously ..." segment! Amazing stuff!
ENGLISH SOFT SUB
Widescreen
here
and Fullscreen
here
. Both can be used for any versions, although it may be off by nanoseconds. To be safe, you may want to download the direct copy as listed above.
Ideally for 720X480 video resolution.
Click here
and find the corresponding episode.
Can be found
here
. Scroll to the bottom and find the corresponding episode. Translated by Reder based on Izumisano's translations.
ENGLISH HARDSUB/OFFICIAL SUB
File size is 403MB in 720X480 resolution. May not have cultural clip, not sure. The subs are by NHK so this is not fansub but considered as official subs. The subs are also hardsubbed into the video file, no need to locate the subtitles file. If you prefer softsubs, try the fansub version above. Apparently not much differences between the 2 except Izumisano tends to be very precise with some terms whilst Luna times the files perfectly and I read in ep 10 onwards, may even be colour coded. Yes I do prefer the fansub.
Go
here
, Click link next to NAME, and in the new page download any of the 1st 2 links under column TORRENT. Use favourite torrent downloader to download. Please note the file is zipped in RAR. To extract use extractor
such as this
.
RATINGS
Coming soon.
River said "
This episode is being aired against a boxing match, so don't expect a super-high ratings
". My prediction? 22%. We shall see ...
08.02.2010
21.2%
. Not far away from my prediction. The rival show, that is the boxing match got 19% ratings. This episode is still the highest rated that night, even if it dropped considerably from last week. Thanks to River and AngelReii for the info.