Previously, a new addition to my blog, I will find in the net great stuff that I can't repost here but can certainly point the way for you which I shall call the SURPRISE! post. Now it is a collection of Masha's latest news all in one post as well as some pictures and other stuff that I can't repost but can links directly. Does not include radio link (that will be under SNIPPETS) or song download links. Mostly pictures and news source. Will also include some of my own post that I feel you may not have seen but would certainly be interested in! If I do not mention the name specifically, just assume the source is the HK Fans Discussion Forum. The post you see below is the latest post.
For all other posts, click the Read More link.
>> For posts after 23.10.2010, please click here
---
MASHA'S LATEST NEWS & MORE
[01.07.2010-23.10.2010]
---
23.10.2010
APPLE DAILY (TAIWAN) REPORT ON THE POPULARITY OF MASHA
Or at least that's what I think the whole idea of the report. Anyway there's a video there so do watch it was the reporter states his popularity, Ryoma-Den, his value in advertising (Taiwanee currency $3 million), not sure daily, monthly, yearly or thus far but point is he is rich! Also a rundown on the women he was rumoured with (coincidentally all the pictures showcase them dressing very little fabric) and also Masha suspected to have gone through surgery, at least on his eyes. I tell you, total BS because the picture they used and to compare now, frankly boys takes time to grow physically. Look at his even younger pictures and he looks the same. Anyway still at least some news in Chinese, a language I can understand.
Have a read and watch here
. Probably due to the upcoming broadcast of Ryoma-Den. Even if some are untruths, at least still some publicity. I feel his rumoured Asian Tour 2010 is like some announcement of when is the next World Cup gonna be held. It's like each country is vying to be in his tour schedule you know. Competition is tight. Malaysia.. hopeless.
For all other posts, click the Read More link.
TV GUIDE NOV 2010 ISSUE
Reportedly with 4 pages worth of interview, you can view the rather nice scan of Masha in this TV Guide issue here at
Post #703 Page 47
. He looks tired, not smiling but the hair and background colour is nice. I think I'm gonna miss this hair.
NEWS 1
PICTURE AT NEXTMEDIA SITE
Whatever is the contents there (the regurgitation of some news reported first in Japanese media I think called FRIDAY about his rumoured past relationships with a very (now) married Seto Asaka as well as Manami Konishi and how Seto Asaka and himself regretted not having dating pictures taken, etc although FRIDAY did not specifically said their times, just their initials), the picture there is rather nice. A pity the quality sucks but that is a rather rare sort of full frontal shot so to speak that is rather well, nice. Tall and for once dress like normal with an old hairstyle circa 2007? 2008? A bit too thin to be 2006. To save you time, the picture is appended below.
You can visit that news
. I mean gossip or not, it is still interesting to check out his taste in women, rumoured or otherwise.
[UPDATES - 05.10.2010]
Thanks to Izumisano for some clarification of the above sub news (other than my zooming in on the said picture above);
I believe the original article in FRIDAY magazine was about secretly dating celebrity couples, that FRIDAY regretted not having been able to take scoop pictures on.
BTW, that full-length picture was taken during his Galileo TV filming in 2007.
Frankly I regret as well, in behalf of FRIDAY! I don't think I have ever seen his dating pictures, not even a dinner picture but then I have never seen a picture of his mother. So frankly you know how guarded he is.
NEWS 2
OLD MAG SCANS
Not news but magazine scans worth a look, expecially that on the floor holding a guitar. I love pictures of Masha with guitars. Anyway have a look at
Post #340 Page 23
.
GQ Japan Cover
Not recent but an old one. You MUST check out some great pictures (Masha in a suit! A proper suit!) here at
Post #239 and 240 Page 16
. MUST! Do ignore the stunned look. He seems to favour that sort of look back then. I wonder back when though because I can't see when was the pictures taken. He doesn't look as big during Milk Tea time circa 2006, he doesn't look as thin in Suspect X circa 2008, his hair doesn't seem in line with older than 2006 so is this Galileo circa 2007 time?
NHK Stera Cover
Oh my God!! What a cover! That must also be a signature hand gesture? Anyway to know what I am talking about, and first time ever did I see such a big clear cover scan, you must check out
Post #143 Page 10
for the NHK Stera 02.10.2010-08.10.2010 issue which I suppose talks about Ryoma-Den season 4! A must see! Gorgeous cover! And gorgeous inside scan too. Must have more pages since can't be just 2 pages!
Anyway a sneakpeak on the excellent cover
. Believe me, bigger scan is in the link above!
News 1
New compilation with possibly 37 old songs (some may be reworked) with 3 possible new songs will be released on 17.11.2010. The album is called THE BEST BANG!! and you can view the song list, news and pre-order links
here
as previously blogged on 21.09.2010. And some speculated this compilation is a sign of 2 things which at present are speculations only; Masha joining new record label which may be AMUSE's on record label and a possible concert tour next year. It could be true since his concerts seem to tie in with his new albums so I can quite imagine his concert tour is a very long title ending with "
FUKUYAMA MASAHARU'S THE BEST BANG!! TOUR 2010
". I am inclined to believed these 2 speculations.
News 2
Check out new BROS header with Masha promoting Ryoma-Den DVD box here at
Post #116 Page 8
.
News 3
Check out new cover magazine for TV Guide at
post #122 Page 9
. And I agree with the post-er, his eyebags look very very very heavy. Which makes me think, after Ryoma-Den, he will be in for a long holiday. Which means no sequel to Galileo. Sigh... Or it could be bad lightning. Usually his skin is better than that! I mean look at the FULL HD versions of Ryoma-Den. Usually HD itself is cruel to the stars, but FULL HD and still his skin is baby soft! Make up helps but not in such HD version! Ok, bad lightning. He is tired, but not THAT tired! I hope...
[UPDATES]
You MUST check out
post #127, 129 and 130 of page 9
for further scans inside the TV Guide issue. Oh dear! Gorgeous pictures. I can never resist Masha in a nice suit! And whose that lucky girl with her arms around him? Ahhh fret not! Probably one of the little girls from Ryoma-Den! OR could be his "wife". What happy face. So it is confirmed. He will not smile on covers but will reserve his smiles inside the covers! I wish for bigger scans! Where?! Where?!
Masha in Doraemon Special?? Thanks to Post #1022 Page 69 with pictures taken from 2ch forums and some explanation by Izumisano and River both of MashaPlus Info Forums. But first the cool screencaps...
It's him! I thought it was a joke or something! Some explanation by Izumisano and River ...
"Name is Fukuyama Masaaki and the stage is Music Stage aka Music Station"
Looks hologram like! Anyway the
video is here at youku
, appearing around 07:38 mark! Masha will definitely comment about this in ANN later. By the way apparently his voice was not voiced by him! A pity!
[UPDATES]
Yes he did mention about this in ANN tonight
! And he introduced himself as Fukuyama Masaaki! Anyway this special is Ep 226 aired on 17.09.2010 and confirmed, the voice isn't him but an imitation. You can view this special (note the same time mark) in the youtube video below which I am sure will be removed very soon ...
17.09.2010
Unfortunately it is a bad scan but he looks fantastic (again without the smile! Rarer than diamonds, his smiles!) in a proper suit I suppose, here at
Post # 1013 Page 68
which is a scan from the next week's TV Guide issue.
And I read that Masha once worked in a timber company in Nagasaki before he moved to Tokyo to pursue his dream as a singer.He did go back to visit his ex employer some years later who obviously remembered him. Referring to
Post #1011 Page 68
, I wonder whether what the poster meant was the same Timber company? Because frankly I am not sure if Masha worked elsewhere. Anyway have a look at the
company here
. Apparently very near his childhood home! Anyway more fun facts, rumours, gossips and scandals in
his biodata.
15.09.2010
Very interesting news, if Google translator didn't fail me or rather my understanding of google translator didn't fail me. First the picture and news source
here
and
here
(which was published on the same day I am posting this so this is new news) ...
She looks familiar doesn't she? She was the violinist who interviewed Masha in News Zero dated 03.08.2010 when he was promoting Hotaru and they discussed about his music composition amongst other things.
You can read that here
. Her name from my last post is Emiri Miyamoto. Anyway back to the news source, it seems they're collaborating on a new themesong for News Zero (which has been using
Michishirube
all these while) which is debuting on October 5th? Or is it October 4th? Anyway further reading and to my understanding it may still be
Michishirube
now codenamed as Mischishirube 2010 but with her playing the violin. Correct me if I am wrong. Again I wish he would smile a little in pictures.
[UPDATE]
The English news
[
Source
]
Which answers some questions I posted above.
Fukuyama Masaharu and Miyamoto Emiri Hooking up for Milestone Collaboration
Singer Fukuyama Masaharu and violinist Miyamoto Emiri have come to collaborate for Fukuyama's new ballad "
Michishirube
2010 (lit. 'milestone')" (preliminary title). Moreover, the song will be aired as the new theme song for new program "NEWS ZERO" from October 4th. The song "Michishirube" written and composed by Fukuyama had been the theme song of the same program since 2009. When Fukuyama heard "Michishirube" will continue to be the theme song after October, he proposed to collaborate with MIYAMOTO and realized it.
While taking over responsibility for the guitar play, Fukuyama said "The moment Miyamoto added her violin play to the song; 'Michishirube' was reborn as a completely different track. Please expect a lot!" Miyamoto added: "When I got the advice from Fukuyama to 'not think of it as classic but play how I felt it would fit best', I was surprised myself how well I was able to play. I have been able to do the recording with a completely different power from the usual."
Moreover, the recording has been made into pictures by photographer Omura Katsumi, who will be exhibiting the pictures from October 20th to 31st at his free exhibition "ZERO Shashinten 2010"
12.09.2010
Thanks to Izumisano of MashaPlus Info Forums for this link to
NHK Stera
, not sure this or next issue. Anyway a screencap for you...
I wish he would smile a little. He seems rather... not pleased. Rumous has it Masha may co-host Kohaku 2010 (that Red and White music thing) with that lady in question, however you and I and everybody knows he may be busy performing to his fans with his Daikanshasai thing? So unless he can clone himself, I think maybe he may perform via satellite at the most. Well, we shall see...
03.09.2010
A rather interesting pose, at
Post #548 Page 37
, source is from BROS mag from what is written there. No idea what it is for but I don't suppose Masha will plan to release a nude pictorial maybe end of this year since the picture was taken in 2000 and he may have a habit of completing his works after a decade?
All Ryoma-Den related, especially Season 3. You can find all similar pictures to the one I posted below (taken from Episode 34) HERE. Very tempting isn't it, to break the glass and steal the posters? Very tempting indeed!
11.08.2010
A really nice header taken from Amuse site can be seen here at
post #657 Page 44
where I believe on the left is Masha and his guitar during the making of Hotaru PV and the right is during the photography session for the cover of Hotaru/Shounen (I think). Nonetheless, interesting to see.
10.08.2010
Remember I posted a link to cover of CREA Sept 2010 issue on 03.08.2010? A recap, at
post #428 Page 29
? Where he had the teacher look and I didn't quite like the vacant look on his face? Someone at the forum posted the scans inside the magazine and I love what I see! I am hoping Kinokuniya has it although still waiting for a reply. Anyway the small scans of Mona Masha (he does look increasingly like Mona Lisa in his recent photoshoot with his "is that a smile or a smirk" look). Anyway the scans are at
Post # 614 and Post # 615 Page 41
. By the way is feminine looking blouse an in thing these days? Not that I am complaining. He looks great. Someone must sculpt a marble out of his face.
03.08.2010
You MUST check out
Post #327 Page 22
AND
Post #354 Page 24
for a stunning close ups of Masha. Found out that the Magazine is called WITH and it is the September issue. A current one as well, a pity the scan is small. And probably photoshopped a bit, either that or he was dusted in heavy blusher. Why can't there be bigger scan of such loveliness? Why? Stunning! Absolutely stunning! One picture at a time. The uploader is teasing the hell out of at least me even if she didn't mean it! Again, stunning!
More taken from
this seller's site
. A great big thanks to Angelreii of MashaPlus Info Forums for the find!
Also
post #428 Page 29
for the cover of CREA. His vacant look is back. I am not loving that cover although he dressed like a teacher. Imagine a teacher looking like him! The hair is getting really long.
31.07.2010
You will want to check out a series of scans featuring Ryomasha from TV Guide, one of him sleeping, another the famous group post as well as one with him looking ready to die. Fantastic big scans. Here at
Post #182 Page 13
. Also the following taken from
post #189 page 13
as well...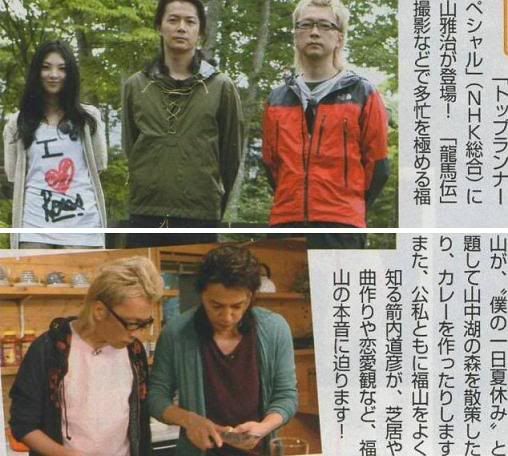 Now this one is a must watch in every fan's list and everyone is praying and hoping it will be broadcast over their paid NHK channel. Why? This is NHK's Top Runner special to be show on
21.08.2010 (Saturday) from 10pm (Malaysian time 9pm) to 10.44pm (Malaysian time 9.44pm)
, just before his ANN show. It will feature Masha of course and him cooking for his guests!! I think the picture above must be for this show! Not sure if Keyhole TV will have it, and I won't be watching then but hoping someone will rip it and upload to at least youtube. The sight of Masha cooking is not to be missed! By the way he can cook. Have you see the Hey!Hey!Hey! Iron Chef parody? No? A must see!
English preview here
.
Full show here
but alas only in Japanese!
Thanks to Julie who posted a snippet on the above scan; "On his one day break, he was cooking curry.". He did say once he likes Curry and soba! Now I am eager to watch this!
16.07.2010
2 very nice black and white scans from a weekly magazine/newspaper which has about 8 pages of pictures and interviews, although only 2 were found. I like the shots since this is in promotion with Ryoma-Den, do expect Ryoma hair and Ryoma brooding look in one picture, and Masha smile in the other. The one with him sitting doesn't look like him though and as a testament to his good lookingness and great skin, even under harsh lights and extreme closeups he looks great!
All here at Post # 696 Page 47
. Since the pictures were taken from 2ch (Japanese forums), I think I can repost the scans here but for the full sized scans (much much bigger!), do go to that link I just posted.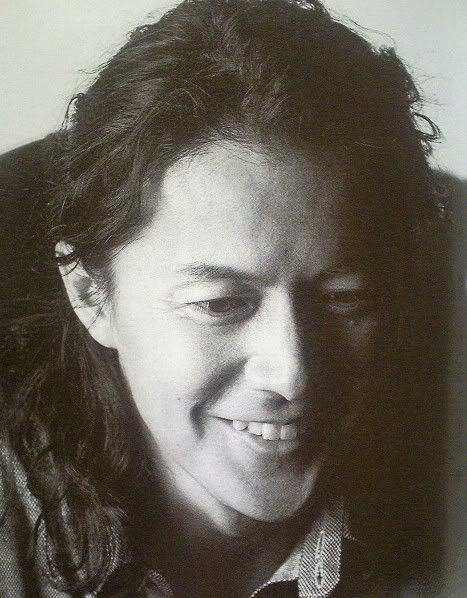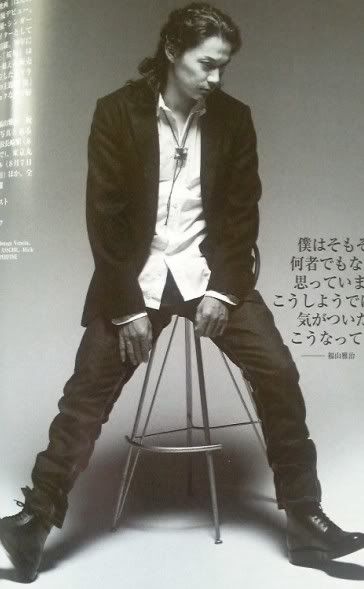 10.07.2010
All posts mentioned in here is at HK Fans Discussion Forums, all must see!! If you have problems accessing HK Discussion Forums, any part of it, like it keeps loading but nothing ever loads and you're using Streamyx, I suppose it is Streamyx's problem. Switch on Hotspot Shield then load the links, it WILL work.
- You must see a particular scan at
Post #574 Page 39
, a close up Ryoma look. I can't post it here but you will know what I mean when you find that post. What a handsome picture!
- More Ryoma related scans and some magazine pose scans all from the magazine called WITH here at
Post #548 Page 37
. You would have seen one of the picture posted here in my blog before, except then it looked like some passport photo. A pity they aren't scanned, one or two seems destined to be keepers you know.
- Then there's some 17 Nen Mono concert posters (my most favourite concert thus far) that are amazing and I think come free with the
new re released concerts
? Not sure. Anyway at
post #453 Page 31
(*),
post #458 page 31
and one more at
post #483 Page 33
. A teaser image as below . If you go to the link marked with (*) which is where you will find the image below and if you can read English, let's just say English is not his or their strongest point.
- I stumbled into a picture when I was there and I wondered is this in any relation to the song Hotaru? Perhaps the cover? Anyway I don't know but it is a very nice picture here at
Post #464 Page 31
, the picture of Masaharu-san in white with elbow propped on his guitar.
01.07.2010
There is this one super amazing scan that you must rush now to see. You will fall in love with that image. It is at
Post #209 Page 14
at HK Fans Discussion Forums.
Then there's the BROS member page header, with Masha striking a rather gallant pose as Ryoma, here at
Post #201 Page 14
at where else but the HK Fans Forums.
Be sure to check out also
Post #204 Page 14
at the same forum for a great gift idea that doesn't cost you much, maybe just the cost of a newspaper and some glue!